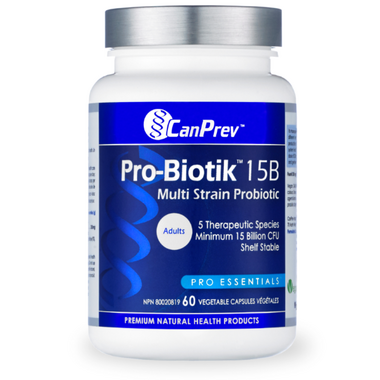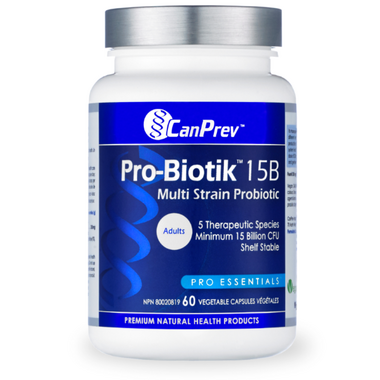 CanPrev Pro-Biotik 15B

CanPrev's Pro-Biotik 15B (15 Billion CFU) is a shelf stable, optimally formulated, multi-strain probiotic, containing five critical probiotic species. Each species is well represented at specific levels to enhance the natural gut flora and confer a health benefit. Pro-Biotik 15B contains bacteria naturally found in the human intestinal tract, including, amongst others, bifidobacteria and lactobacilli. Pro-Biotik 15B is completely shelf stable for ease of use anytime, anywhere.

Ingredients: Per capsule
Bifidobacterium bifidum HA-132 2.25 Billion CFU
Bifidobacterium longum HA-135 2.25 Billion CFU
Lactobacillus acidophilus HA-122 1.50 Billion CFU
Lactobacillus plantarum HA-119 4.95 Billion CFU
Lactobacillus rhamnosus HA-111 4.05 Billion CFU
Total: 15 Billion CFU - Minimum 40 Billion CFU at time of manufacture.
Non-medicinal ingredients: Ascorbic acid, fatty acid, silicon dioxide, potato starch, vegetable capsule.
Please be advised that Well.ca follows manufacturer guidelines for storing & shipping probiotics.