Caprina
Caprina Fresh Goat's Milk Body Lotion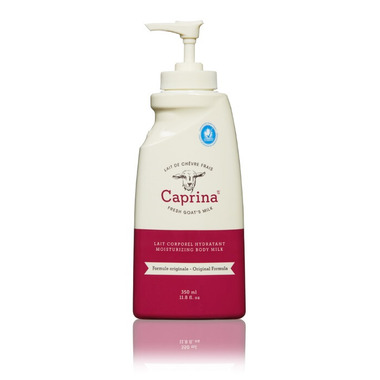 Caprina
Caprina Fresh Goat's Milk Body Lotion
Original Formula
350 mL
Caprina Fresh Goat's Milk Body Lotion
is rated out of
5
by
22
.
---
Description
Caprina body lotion contains fresh goat's milk, a natural and highly effective skin moisturizer.

Original is the signature Caprina formula. The first of all their formulas, it continues to be a favorite amongst their customers. All the beneficial properties of fresh goat's milk are combined with subtle essentials oils derived from natural ingredients.

You'll love the clean fragrance.

Caprina body lotion is non-greasy, absorbs quickly and helps restore your skin's own moisture levels for 24 hours.
Features:

Dermatologist tested
Contains no parabens
Not tested on animals
Ingredients: Aqua, Stearic Acid, Glycerin, Dimethicone, Glycine Soja (Soybean) Oil, Cetyl Alcohol, Isopropyl Palmitate, Glyceryl Stearate, Glycol Stearate, Caprae Lac, Isopropyl Isostearate, Caprylyl Glycol, Parfum, Potassium Sorbate, Tetrasodium EDTA, Triethanolamine, Benzyl Benzoate, Limonene, Linalool , Eugenol,Geraniol, Citronellol.
Highlights

Shipping & Returns
Rated

5

out of

5
by
Sandee
from
This is a wonderful cream. I love all of Caprina goat milk products. The smell is fantastic. It's not too greasy and absorbs quickly. I have been using this for a couple of years and it was never hard to find in NS but a recent move to SK has had me searching everywhere with no luck finding it. Thank you well.ca for coming to the rescue and carrying this great product!
Date published: 2014-03-22
Rated

5

out of

5
by
Sandra
from
I love this product but it is difficult to find. As well, your price is even better than e-Bay prices! The smell of this product is so lovely that I use it a little like perfume. The smell of it also helps me get to sleep. It is a great moisturizer. Highly recommended.
Date published: 2016-08-13
Rated

5

out of

5
by
Nana of five.
from
I love this product. The smell is amazing. I would highly recommend it to anyone else. It's number one in my books. Your prices are well worth it as the scent of this stays with you for a long time. Thank you.
My sister in law used this lotion and soap and she always smelled good. She would always tell me that she hadn't used any perfume. So eventually we found out where that wonderful scent came from. She has used the soap and lotion for many years. I was so happy when she told me this. She had become used to it and didn't realized the scent she was giving off was from her soap and lotion. I was just overjoyed and very grateful in finding this information. Patience was a virtue for me and now I happily and proudly use this product all the time.
Date published: 2020-10-23
Rated

5

out of

5
by
Carleen
from
I've seen this lotion in stores for years and finally decided to try it, after a winter of using a natural/organic lotion that left my skin dry and cracked. After almost 2 weeks use, I can see a noticeable difference in my skin. This lotion absorbs quickly and leaves a non greasy feeling, also has a light refreshing scent. Great product.. Wish I had tried it sooner!
Date published: 2013-06-03
Rated

4

out of

5
by
Holly
from
After using this product a few times, it is definitely a moisturizing product. The smell isn't like a typical body wash that I have used before. But it is pleasant and I can see how a product such as this is desirable. Good product!
Date published: 2019-09-04
Rated

5

out of

5
by
Kashif
from
Satisfied with the product and purchase.
Date published: 2012-11-13
Rated

5

out of

5
by
Krystal
from
I love this body wash. It feels so natural and soft on your skin. I dont usually buy bodywash but I was sent a free sample of this and now I use it all the time. The fresh smell is so great it stays with you all day
Date published: 2019-09-10
Rated

4

out of

5
by
Holly
from
I received this as a #freeproduct in my Topbox circle package. I have been only using it for a few days, however, I have to agree that this is a very moisturizing product. If you're not keen on fruity/artificial scents and just want a simple product at a good price point. I recommend this.
Date published: 2019-09-05