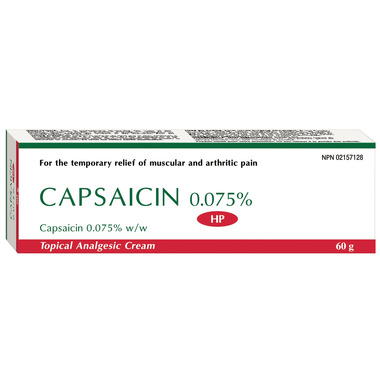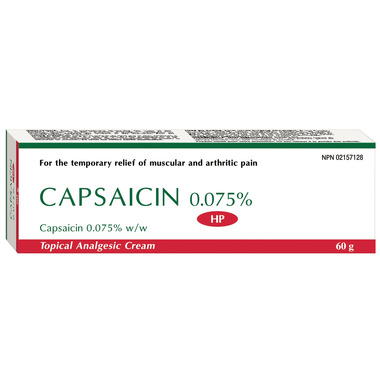 Temporary relief of muscular and arthritic pain.
Topical analgesic. For the temporary relief of aches and pains of muscles and joints associated with backache, lumbago, strains, bruises, sprains, arthritic or rheumatic pain, pain of tendons and ligaments. For tired aching muscles.

Directions:
Adults and Children 2 years of age and older: Apply to the affected area 3 to 4 times daily. Capsaicin may initially cause transient burning on application. This burning is observed more frequently when application schedules of less than 3 to 4 times daily are utilized. After applying with fingers, hands should be washed immediately. For use on arthritic hands, if possible avoid washing treated areas for at least 30 minutes after application.

Ingredients:
Medicinal Ingredient: Capsaicin HP 0.075% w/w. Non-medicinal ingredients: Arlacel 165, benzyl alcohol (as preservative), cetyl alcohol, isopropyl myristate, purified water, sorbitol and white petrolatum.

Caution:
Avoid contact with eyes or on broken or irritated skin and contact with mucous membranes. Do not bandage. If condition does not improve after 28 days, discontinue use and consult your physician. Keep this and all drugs out of reach of children.