Carina Organics Body Deodorant Unscented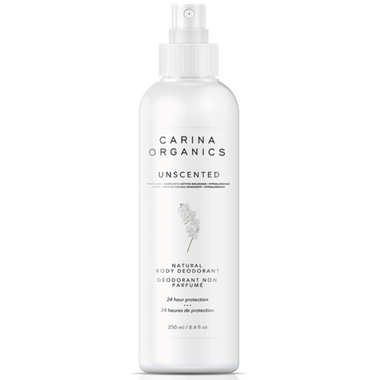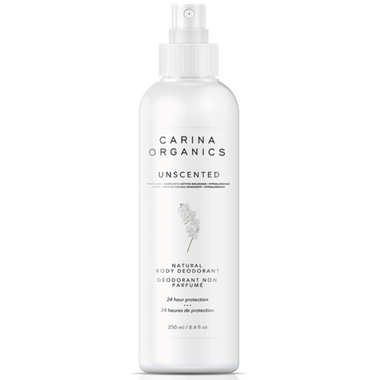 Carina Organics Body Deodorant Unscented
Formulated with natural, unscented and non-staining mineral salts that form a layer of natural protection for up to 24 hours from odour causing bacteria.
Features:
Synthetic Free
Hypoallergenic
Cruelty Free
Vegan
100% Biodegradable
Soy Free
Gluten Free
Dye Free
Paraben Free
Directions:
Pump 4 to 6 sprays under each arm and on any other desired body areas. If an irritation or rash develops, discontinue use. If the sprayer becomes clogged, rinse with hot water.
Tip:
Spray on feet to eliminate foot odor.
Ingredients:
Aqua, Potassium alum, Pinus banksiana (pine) extract.




Andi:
about a week ago
Best deodorant I have ever used. I am allergic to artificial fragrances and have a hard time finding products that I can use that don't give me a reaction. This product works and the bottle lasts forever. I love this product along with the entire Carina Organics line! I recommend to all of my friends and family.
Alicia:
a few months ago
I was really surprised with this product. Normally natural deodorants don't do the job, but this product actually does. You have to use the recommended number of sprays for it to work. I sometimes may notice a slight odour at the end of the day but nothing offensive. Happy I ordered this!
AJ:
more than a year ago
I really like this product. I find it does a good job by itself or sometimes I use it with another natural, scented deoderant. Occasionally, I'll notice some odor at the end of the day and it does drop down my sides a bit after several sprays (hence the 4/5). However, I'm breastfeeding and don't want to expose my baby to harmful chemicals, as well as myself anymore, so I'd rather the small inconvenience for a good product like this. Also I love that it is unscented! I'm very sensitive to smells and with this product I don't need to worry.
Page
1