Carina Organics Daily Light Conditioner Pink Grapefruit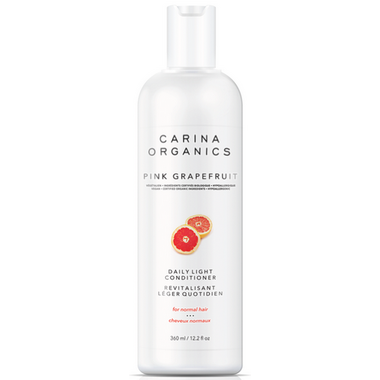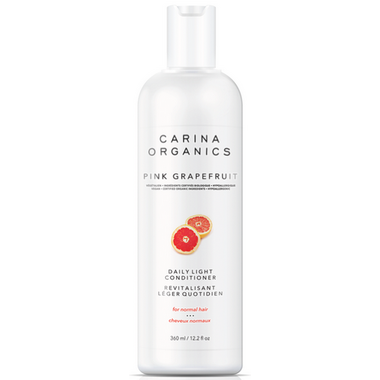 Carina Organics Daily Light Conditioner Pink Grapefruit
A daily light conditioner formulated with certified organic plant, vegetable, flower and tree extracts and scented with organic extracts from the peel of the grapefruit. Helps to restore luster, softness, flexibility and shine. Detangles instantly.
Features:
Synthetic Free
Hypoallergenic
Cruelty Free
Vegan
100% Biodegradable (safe in rivers, lakes and oceans)
Soy Free
Gluten Free
Dye Free
Paraben Free
Directions:
Apply and massage evenly into wet hair, emphasizing any dry ends for 30 seconds. Rinse thoroughly.
Ingredients:
Filtered Aqua, Cocos nucifera (coconut) oil, Pinus banksiana (pine) extract, Matricaria chamomilla (chamomile) flower extract, Urtica dioca (nettle) leaf extract, Taraxacum officinale (dandelion) leaf extract, Trifolium pratense (clover) flower extract, acetic acid (apple cider vinegar), Olea europaea (olive) fruit oil, Cucurbita pepo (pumpkin) seed oil, Citrus paradis (grapefruit) peel oil




Ali:
a few months ago
I absolutely love all of carina organics conditioners. This grapefruit scent is very refreshing. I have thick, coarse, long curly hair and most natural conditioners feel like they do nothing on my hair. This stuff actually works! It detangles and smoothes and gives my hair that "slippery" feeling that I've only gotten from chemical laden conditioners before - except that the ingredients in this stuff are amazing!! I'm hooked and will continue to repurchase.
Kayla:
about a year ago
This is, by far, the best conditioner I have ever used for normal (non chemically treated) hair! It detangles my hair instantly and leaves it very soft and manageable; no leave-in products necessary! This conditioner also has a great, energizing scent that does not stick with you after the shower. I would recommend this line of hair care products to everyone (there is a shampoo and conditioner for damaged hair as well)! It is a great option for someone looking for a product made with natural ingredients that is safe for you and for the environment!
Page
1