Carlson
Carlson Elite Omega-3 Fish Oil Gems 1250 mg Bonus Pack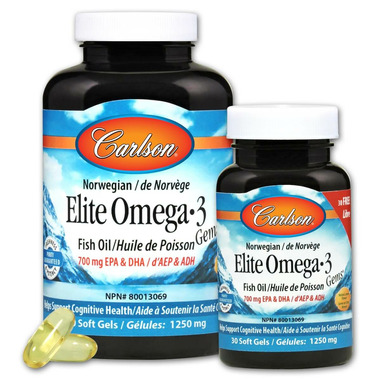 Carlson
Carlson Elite Omega-3 Fish Oil Gems 1250 mg Bonus Pack
Description
Medical Scientists Internationally are encouraging people to eat more fish. Fish body oil is the major source of the highly polyunsaturated omega-3's EPA and DHA.
For those individuals who do not eat an oily fish diet, Carlson offers omega-3's in easy-to-swallow soft gelatin capsules. Carlson Elite Omega-3 Gems contain 1250 mg of a concentrate of fish body oils from deep, cold water fish which are especially rich in the important omega-3's EPA and DHA.
This Carlson Lab product is regularly tested (using AOAC international protocols) for freshness, potency and purity by an independent, FDA-registered laboratory and has been determined to be fresh, fully potent and free of detectable levels of mercury, cadmium, lead, PCB's and 28 other contaminants.
Ingredients: Fish oil concentrate, lemon flavour
fish oil formula 400 EPA / 300 DHA, Natural tocopherols, natural lemon flavour. (Soft Gel Shell: Beef gelatin, glycerin, water)

Contains: Fish (anchovy, sardine, mackeral)

Highlights

Features
Fish oil concentrate, lemon flavour fish oil formula 400 EPA / 300 DHA, Natural tocopherols, natural lemon flavour. (Soft Gel Shell: Beef gelatin, glycerin, water)
Shipping & Returns