Carlson for Babies Super Daily D3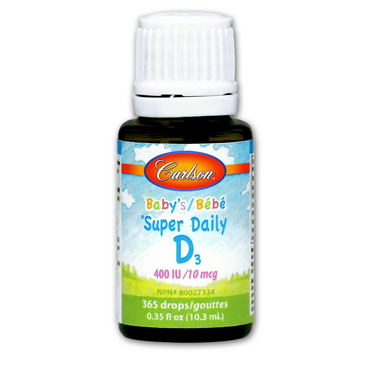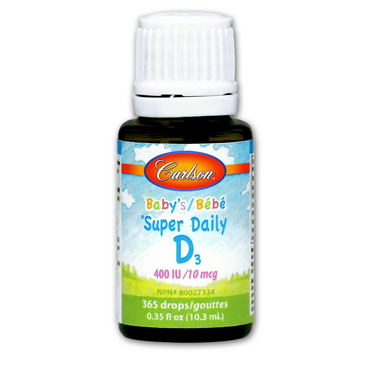 Carlson for Babies Super Daily D3
Carlson For Babies Super Daily D3 is a natural vitamin D3 supplement to help your baby reach their daily dose of Vitamin D3, since their bodies can't produce enough vitamin D3 on their own. Even though breast milk and formula are excellent nutrient sources for babies, they often don't provide enough vitamin D for a growing little one. Vitamin D3 is essential for babies as it promotes healthy growth and development. Place a drop directly on your baby's tongue to help their body absorb calcium and phosphorus, and to support teeth, bone, and muscle health.
Features:
Helps in the development and maintenance of bones and teeth
Helps in the absorption of calcium and phosphorus
400 IU of concentrated vitamin D in each liquid drop
Each bottle contains 365 drops, one for each day of the year
Unflavored with no aftertaste
Freshness, potency, and purity guaranteed
Ingredients:
Vitamin D3 (cholecalciferol), medium chain triglyceride oil (coconut and palm source)
Katrine:
about a year ago
I am not sure if it is an issue with the bottle or the consistency of the product but it does not drop out of the bottle well. It comes out extremely slowly and tends to collect around the rim despite holding the bottle upright. I will stick to the Baby D Drops brand which I've never had an issue with.
Page
1