Carlson
Carlson for Kids Very Finest Fish Oil Lemon Flavour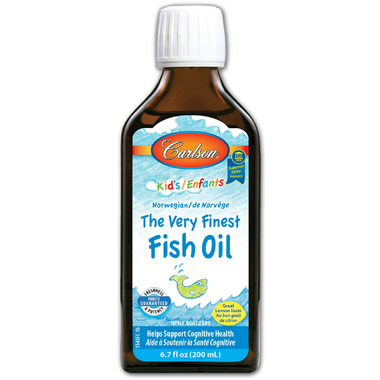 Carlson
Carlson for Kids Very Finest Fish Oil Lemon Flavour
Description
Carlson for Kids Very Finest Fish Oil has a great lemon taste and contains 800 mg of omega-3's in each 1/2 teaspoonful. Carlson for Kids Very Finest Fish Oil comes from cold-water fish found in deep Norwegian waters and is bottled in Norway to ensure maximum freshness. It is vitamin A & D free. Recent medical studies have shown the importance of omega-3's for healthy brain development and vision in growing children.

This product is regularly tested (using AOAC international protocols) for freshness, potency and purity by an independent, FDA-registered laboratory and has been determined to be fresh, fully potent and free of detrimental levels of mercury, cadmium, lead, PCB's and 28 other contaminants.

Directions: Children (1-12 years) and adolescents (13-17 years): take 2.5 mL (1/2 teaspoonful) daily at mealtime.
Medicinal Ingredients: Fish Oil (Anchovy, Sardine, Mackerel)
Non-Medicinal Ingredients: Natural Lemon Flavour, Tocopherols, Rosemary Extract.
Highlights

Shipping & Returns