Cascade Platinum ActionPacs Dishwasher Detergent Lemon Scent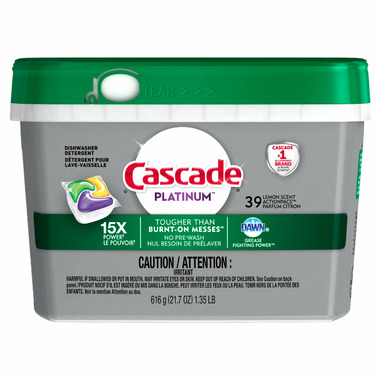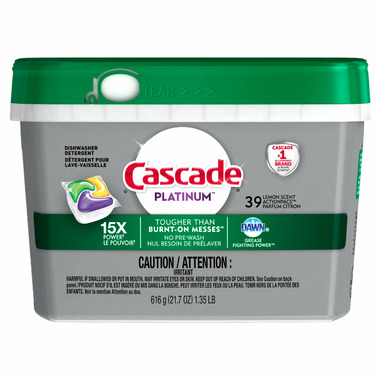 Cascade Platinum ActionPacs Dishwasher Detergent Lemon Scent
Cascade Platinum ActionPacs clean burnt-on messes in just one wash, with no pre-wash needed. Premium tough food cleaning powers away burnt-on foods, while built-in rinse aid action and the grease-fighting power of Dawn® make your dishes dazzle. The best clean for sparkling silverware and even your dishwasher. Plus, Cascade Platinum dishwasher detergent is formulated to help prevent hard-water filming—keeping your machine looking fresh and clean. Simply pop in an ActionPac and reveal a Platinum sparkle.
Features:
No pre-wash needed—Cascade® Platinum dishwasher detergent removes burnt-on food without pre-washing
ActionPacs™ are formulated with the grease-fighting power of Dawn® dish soap
The triple chamber ActionPac is tough enough to finish cleaning even your burnt on messes without pre-washing
Cascade's best dishwashing detergent keeps your silverware and dishwasher sparkling
Rinse aid action rinses away residue and leaves brilliant shine
Directions:
1 ActionPac = 1 Load 1. Dry hands before handling, pacs dissolve quickly in water. 2. Do not unwrap, puncture or pull apart stuck together pacs. 3. Place one pac in the main dispenser cup and close dispenser door 4. Let it do the cleaning. 5. Reseal bag after each use.

Ingredients:
Contains sodium carbonate, nonionic surfactants, sodium silicate and enzymes. Phosphate free.
Caution:
Do not get in eyes. Do not get on skin or clothing. Keep out of reach of children.