Celestial Tea
Celestial Seasonings Bengal Spice
Caffeine Free Herbal Tea 20 Count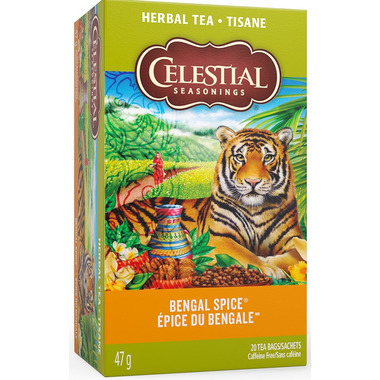 Caffeine Free Herbal Tea
20 Count
Celestial Seasonings Bengal Spice
is rated out of
5
by
307
.
---
Description
Brimming with cinnamon, ginger, cardamom and cloves, this adventurous blend is their caffeine-free interpretation of chai, the piquant Indian brew traditionally made with black tea. Try it with milk and sugar for a true chai experience.
Highlights

Features
Gluten free
Kosher
Responsible sourcing
Quality ingredients
Sustainable packaging
Caffeine free

Ingredients
Cinnamon, roasted chicory, roasted carob, natural flavors, ginger, cardamom, black pepper, cloves, nutmeg
Shipping & Returns
Rated

5

out of

5
by
Elise
from
This is one of my favorite teas of all time. I often get a craving for that chai spice flavor before bed, but I don't like to drink black tea before bed due to the caffeine. This is the perfect solution because it is an herbal tea with that divine spicy flavor. I add a little sweetener and a dash of soy milk and it is bliss. It also works well if you don't use any water and instead heat up soy milk or regular milk in the microwave and then brew the tea in the milk. Yummy!
Date published: 2013-12-05
Rated

4

out of

5
by
amandah388
from
I am always intrigued by these teas because the boxes are so creative, so when looking at all the tea options from Celestial Seasonings this one caught my eye because of the beautiful box design and the description of the flavor. I liked the scent of it right away and enjoyed the flavor. It was unique but not too exotic, a warm spice but not too strong. It is not one I would drink every day but one I like to have sometimes in the afternoon or at night when I feel like having something warm, especially when the western gets colder. I would definitely buy this again along with many other teas from@this company since they are all good quality and nice packaging.
Date published: 2021-08-21
Rated

5

out of

5
by
jessical77c2
from
I LOVE this tea!
I LOVE this tea! It tastes like an amazing chai tea latte when I use two teabags and little Stevia and a dash of cream. I eat keto and I try not to "drink my calories" so finding this tea has been brilliant! (My nickname was "Jenny Chai" at my local coffee shop.) I've gone without chai for a few years now because it is sugary and watered down teabag taste just doesn't do the trick for me. But this is the answer! I drink it every night and not only does it taste great, it's gets me in a zen headspace and ready to curl up with a good book before bedtime. I gave up alcohol and my evening cocktail and replaced it with a new ritual using this tea. It has been a true lifesaver for me.
Date published: 2022-03-31
Rated

1

out of

5
by
SLJ
from
Something wrong with this tea
I've gone through 4 boxes of tea now from different vendors and there's something wrong with this batch of tea. It's like the cinnamon is completely missing or something. I called Celestial Seasonings and they are aware of complaints but I couldn't really get a clear answer on what they were doing about it. Certainly they haven't recalled the product, which they should really do. Anyway, hopefully this tea will be back to its usual standard soon. It's my favourite!
Date published: 2023-01-26
Rated

5

out of

5
by
kristin0315
from
Just Wow! Well to start off, I was looking for another spicy tea because one of my favorites had been discontinued. I saw this and heard that it was popular so I decided to give it a try. I have had mixed feelings about celestial seasonings in the past so I was not sure what to expect. I love this tea. It is more of a sweet spice because of the cinnamon and would be a nice desert tea. It is just so good, and beautifully fragrant as well. It is also very strong so you can get at least 2 full cups, sometimes more out of every bag. So glad that I gave this a try, I am hooked!
Date published: 2021-02-24
Rated

1

out of

5
by
amburrito4020
from
There are not many
There are not many teas I buy that I would never buy again, but this is it. All personal preference though, as I love the brand itself and have tried every hot tea I have ever seen them release. I do not like spiced tea really (outside of chai), and this was just way too over the top for me. I didn't even get a tea taste because I couldn't get over the spice. I did give it to a friend that loves spiced tea, and they said it was one of their favorites they have had. So I think this is more going to be what your preference is on spice in you tea than anything else.
Date published: 2022-03-15
Rated

1

out of

5
by
SJ_42
from
What happened to one of my fave teas?!
I agree with another recent reviewer that something has happened to this tea. Bengal Spice has been a favourite in my house for years. Recently (in the last several months) - every box I've purchased has tasted horrible. I don't know if the recipe has changed or if there's something wrong with certain batches - but every brew tastes sort of chemically, and well - kind of like dirty water. I haven't noticed a change with any other tea other than this one. I hope whatever has happened gets fixed soon - I need this favourite back in my life!
Date published: 2023-02-24
Rated

5

out of

5
by
jh
from
Fantastic!
I like this because I want the taste of chai, but I don't want to drink black tea, so this is perfect, as it's made with chicory instead of black tea. It's great - super flavourful, and good and spicy. My family loves it, too. I'm trying to cut back on sugar, so I'm thinking of trying this, with a bit of milk and honey, when those sugar cravings hit, to replace unhealthy sugary treats.
Date published: 2020-02-01