Centrum Flavour Burst Adult Multivitamin Chews in Tropical Fruit Flavour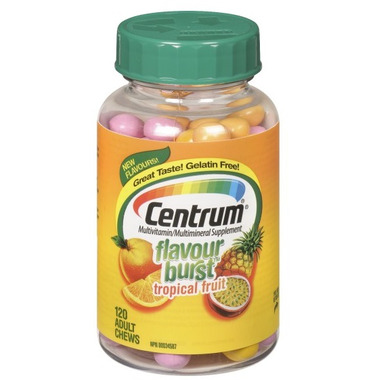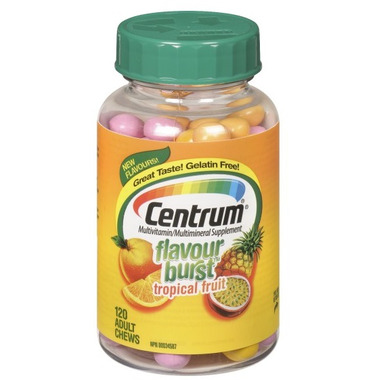 Centrum Flavour Burst Adult Multivitamin Chews in Tropical Fruit Flavour
Centrum Flavour Burst adult multivitamin chews help to maintain immune function and good health, and help your body metabolize carbohydrates, fats and proteins. With a hard shell outside and a chewy, soft inside, they taste so good that you'll never forget to take your vitamins again!
Centrum Flavour Burst is gelatin‑free.
*Helps to maintain good health and immune function, and helps to metabolize carbohydrates, fats, and proteins.
:
Adults (12 years and older): Up to three chews daily with food. Take a few hours before or after taking other medications.
Vitamins:
Per Recommended Daily Dose / 3 CHEWS
Vitamin A 450 mcg / 1500 IU
Vitamin E 13.5 mg AT / 30 IU
Vitamin C 45 mg
Folate 0.3 mg
Vitamin B6 1.5 mg
Vitamin B12 7.5 mcg
Vitamin D 15 mcg / 600 IU
Biotin 112.5 mcg
Pantothenic Acid 7.5 mg
Minerals:
Iodine 0.06 mg
Zinc 3.75 mg
Other Ingredients:
Choline 57 mg
Inositol 30 mcg