Centrum MultiGummies for Adults 50+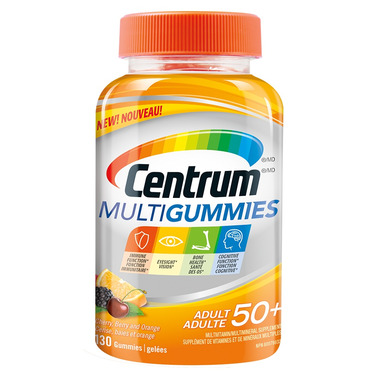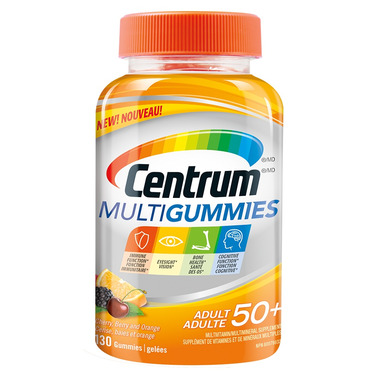 Centrum MultiGummies for Adults 50+
Centrum MultiGummies for Adults 50+ is a great tasting, easy to take multivitamin crafted with key nutrients to help support good health including immunity, cognitive function, eyesight and bone health. These multi-benefit multivitamins are age-appropriate for adults 50+ and include essential nutrients, Vitamins B12, D, and E.
Features:
Helps maintain good health
Helps build strong bones and teeth
Helps maintain cognitive functions
Helps maintain immune function
Gluten-free
No artificial flavors or sweeteners
Dosage: Adults 50+: Take two gummies daily with food. Take a few hours before or after taking other medications or natural health products.
Ingredients: Vitamins: Vitamin A (vitamin A acetate) 750 mcg/2500 IU/UI, vitamin E (dl-a tocopheryl acetate) 18 mg/40 IU/UI, vitamin C (ascorbic acid) 30 mg, folate (folic acid) 160 mcg, vitamin B6 (pyridoxine hydrochloride) 2 mg, vitamin B12 (cyanocobalamin) 15 mcg, vitamin D (cholecalciferol) 25 mcg/1000 IU/UI, biotin 75 mcg, pantothenic acid (calcium d-pantothenate) 3 mg. Minerals: Calcium (calcium phosphate, tribasic) 80 mg, iodine (potassium iodide) 80 mcg, zinc (zinc sulfate, monohydrate) 5 mg.