Centrum
Centrum Multivitamin for Women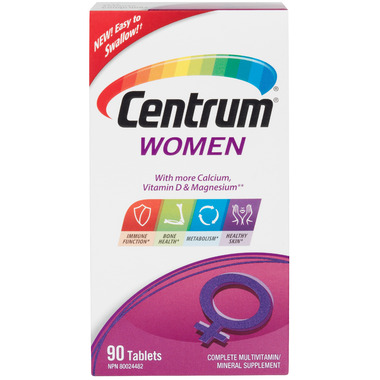 Centrum
Centrum Multivitamin for Women
Description
Specially formulated for women, Centrum Women multivitamins contain calcium, vitamin D, and magnesium to address the nutritional needs of women. Centrum Women helps support the immune system, maintain bone health and healthy skin, and maintain the body's ability to metabolize nutrients. Verified non-GMO and gluten free, Centrum Women multivitamin's formulation of vitamins and minerals nourishes your body from the inside to support good health. Backed by over 35 years of nutrition science expertise, Centrum is the #1 doctor recommended multivitamin brand* and the #1 selling multivitamin brand in Canada.**

This package includes one 90-count bottle of Centrum Women multivitamin/multimineral supplement tablets. (*Based on IMS Health Data dated March 2020; **Centrum calculation based in part on data reported by Nielsen through its Market Track Service for the Adult Vitamins Category for the 52-week period ending 10/31/2020)

Dosage: Take one tablet daily with food. Take a few hours before or after taking other medications.

Caution: Do not exceed the recommended daily dose. If taking other supplements, read label, as other supplements may contain the same ingredients. In case of accidental overdose, contact a physician or poison control centre immediately. Consult a healthcare practitioner prior to use if you are taking blood thinners.There is enough iron in this package to seriously harm a child. Keep out of reach of children.


Features
90 count bottle of Centrum Multivitamin for Women, Multivitamin/Multimineral Supplement with Iron, Vitamin D3, B Vitamins and Antioxidant Vitamins C and E
Women's multivitamin tablets with iron and B Vitamins to support daily energy needs
Supplement made with 23 key micronutrients including Vitamin D3 to support bone health and normal immune function
Women's multivitamins with 100 percent or more of the daily value of iron, biotin and Vitamins D3, B6 and B12
Each bottle of these daily vitamins for women contains 250 easy-to-take tablets to help maintain your overall health
Ingredients
Does not contain gluten, parabens or tartrazine (FD&C Yellow No. 5). WITH MORE CALCIUM, VITAMIN D AND MAGNESIUM** When compared to Centrum Forte Essentials.EACH TABLET CONTAINS: VITAMINS: Vitamin A (vitamin A acetate) - 300 mcg/1000 IU, Beta-Carotene - 600 mcg/1000 IU, Vitamin E (dl-α tocopheryl acetate) - 12.6 mg/28 IU, Vitamin C (ascorbic acid) - 150 mg, Folate (folic acid) - 0.4 mg, Vitamin B1 (thiamine mononitrate) - 3.85 mg, Vitamin B2 (riboflavin) - 3.85 mg, Niacinamide - 14 mg, Vitamin B6 (pyridoxine hydrochloride) - 5 mg, Vitamin B12 (cyanocobalamin) - 21.6 mcg, Vitamin D (cholecalciferol) - 20 mcg/800 IU, Biotin - 45 mcg, Pantothenic Acid (calcium d-pantothenate) - 11 mg, Vitamin K1 - 20 mcg, MINERALS: Calcium (calcium carbonate and phosphate) - 400 mg, Iodine (potassium iodide) - 0.15 mg, Iron (ferrous fumarate) - 7.5 mg, Magnesium (magnesium oxide) - 64 mg, Copper (cupric sulfate) - 0.9 mg, Manganese (manganese sulfate) - 5 mg, Chromium (chromium chloride) - 25 mcg, Selenium (sodium selenate) - 55 mcg, Zinc (zinc oxide) - 8 mg. OTHER INGREDIENTS: Lutein (marigold flower Tagetes erecta) - 1000 mcg, Lycopene - 600 mcg Non-Medicinal Ingredients: Acacia, BHT, calcium stearate, citric acid, corn starch, crospovidone, FD&C Blue No. 2 Aluminum Lake, FD&C red No. 40 Aluminum Lake, gelatin, glucose syrup, hydrogenated palm oil, hypromellose, magnesium stearate, maltodextrin, medium chain triglycerides, microcrystalline cellulose, modified food starch, polydextrose, silicon dioxide, sodium ascorbate, sucrose, talc, tartaric acid, titanium dioxide, trehalose, trisodium citrate.
Shipping & Returns