Centrum Select 50+ Chewable Multivitamin
Lemon-Berry Flavour
60 Tablets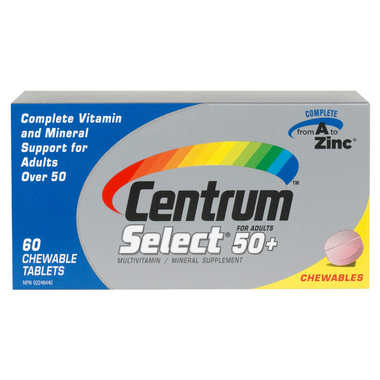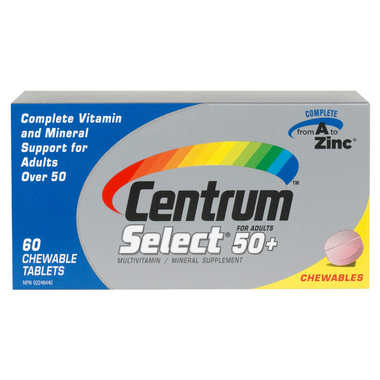 Centrum Select 50+ Chewable Multivitamin
Lemon-Berry Flavour
60 Tablets
Centrum Select Chewables provide the same benefits as Centrum Select in a great tasting raspberry-lemon flavour. Centrum Select Chewables are designed for adults over 50 who may have trouble swallowing tablets.
Suggested Use:
Adults - 1 tablet daily with food.
Caution:
Take a few hours before or after taking other medications.
Ingredients:

Cindy:
about a year ago
I love this product! I have difficulty swallowing large pills, so this chewable vitamin is perfect for me. And it is more complete than any other multivits I have seen, and includes lutein lycopene for eye health, which many don't. The new lemon-berry flavour is very nice. Great product, Centrum!
Faye:
more than a year ago
I have used Centrum 50+ for about 10 years. The pill was large but I was still able to swallow it. When I saw the chewables, I decided to try it. It was a mistake. The pill is large and has to be chewed well. However, the tiny solid particles go down the back of my throat and make me cough. The particles are hard to dislodge even with coughing. The particles also hug my gums around my teeth so I have to be very diligent in brushing my teeth and rinse more than usual. I would suggest instead that a dissolving gum chewable pill or a smaller sized pill with the same ingredients be devloped, I will continue using Centrum 50+ but not the chewables as they are now.
Page
1