Chimes
Chimes Original Ginger Chews Tin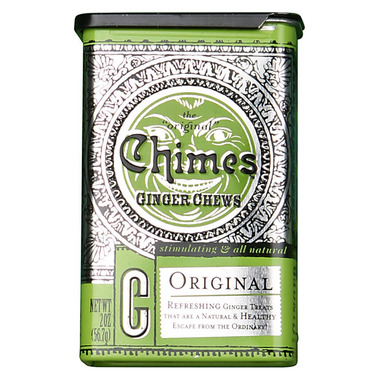 Chimes
Chimes Original Ginger Chews Tin
56.7 g
Chimes Original Ginger Chews Tin
is rated out of
5
by
31
.
---
Description
Refreshing ginger treats that are a natural and healthy escape from the ordinary! All Ginger Chews are individually wrapped.
Ingredients: Cane Sugar, Ginger, Tapioca Starch. No Additives or preservatives.
Highlights

Shipping & Returns
Rated

5

out of

5
by
Brit
from
Delicious
I have bought these several times, and will continue to buy them in the future. They are a little "spicy" because of the ginger but sweet and chewy. I have found them helpful when I have an upset stomach (pregnancy or otherwise) as a natural way to help me feel better. I love the tin packaging because I can just buy the larger bag and refill when I run out.
Date published: 2021-01-06
Rated

5

out of

5
by
Kristina
from
Absolutely love Chimes! The chewy texture is great, the spicy and sweet ginger flavour is amazing, and overall this is one of the best treats on the market. The tin is an added bonus; it's a beautiful form of packaging for a lovely product.
Date published: 2017-02-20
Rated

5

out of

5
by
Julia
from
Great! But you have to really like ginger, as these are spicy and hot! I love ginger, so it works for me. Also, ginger is a natural remedy for nausea, so these would be really good for bus travel, air travel, things like that.
Date published: 2012-08-19
Rated

5

out of

5
by
Cheryl
from
Really enjoyed the Ginger Chews. These taste like real ginger. And the soft, chewy texture is perfect! I've tried other brands and they just don't compare. I bought multiple tins to give out to friends and family, especially those experiencing digestion complications.
Date published: 2011-12-21
Rated

5

out of

5
by
Taura
from
Helped reduce nausea when I was pregnant
These ginger chews helped reduce nausea when I was pregnant, in my first trimester. I like how simple the ingredients are, and they were faster than brewing ginger tea, which I also did.
Date published: 2023-02-02
Rated

5

out of

5
by
Byken
from
An update... lol I have tried these after buying some for my friend as a gift, and I have to say..... I'm hooked! These are actually pretty good! I love ginger candies now! lol
Date published: 2012-04-03
Rated

5

out of

5
by
Krista
from
I hate ginger, but I could tolerate these, so they must be pretty good. They soothe the stomach if it's a bit upset, which is why I bought them, so I'm happy.
Date published: 2017-01-25
Rated

5

out of

5
by
sonia
from
These ginger chews have just the right sweet and spicy combo and the right size packaging to carry around.
Date published: 2016-12-17