Chosen Foods Avocado Oil Mayo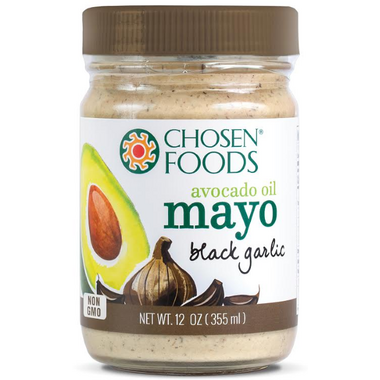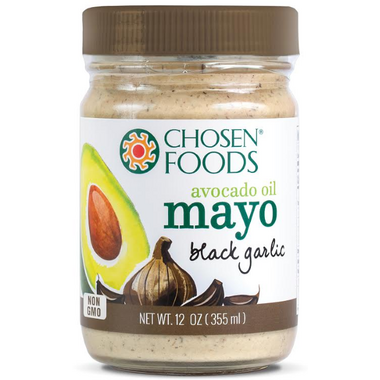 Chosen Foods Avocado Oil Mayo
Black Garlic puts a sweet and earthy twist on their original Avocado Oil Mayo. The ultimate condiment for grilled vegetables, meat and sandwiches. Black Garlic is a unique and acnient ingredient. To make black garlic, the finest garlic bulbs are fermented at low temperatures for more than 100 days. The sugars caramelize and the pungent garlic flavour becomes muted. The ultimate condiment for grilled vegetables, meat and sandwiches.
Benefits:
Paleo, Primal Approved
No Artificial Flavours or Preservatives
Healthy Fats & Cage Free Eggs.
No Soy, canola or vegatable oil.
Non-GMO
Low Cholesterol
Made with 100% Pure Avocado Oil
Ingredients:
Avocado Oil, Black Garlic Puree, Organic Whole Eggs, Water, Organic Distilled White Vinegar, Egg Yolks, Organic Mustard (Organic Mustard Seed, Distilled Organic Vinegar, Organic Spices), Salt, Organic Rosemary Extract

Contains Egg. Refrigerate after opening.
Pat:
a few months ago
I really, really, like this product. In fact, I meant to order a second jar so I'd never be without, and then thought I'd put the order in, when I hadn't.
Aaargh! But I now have that second bottle in waiting, and it's great to have a different and wholesome mayo that's not the standard organic canola, or the one you make yourself and have to use up too quickly, before it goes off. I spread this on bread, buns and tortillas, and love it in salads. And keep it on the bottom shelf of the fridge with the label hidden!
Page
1