Chosen Foods Avocado Oil Mayonnaise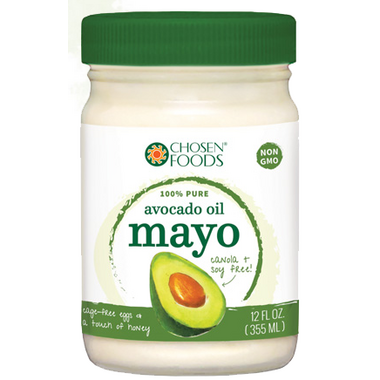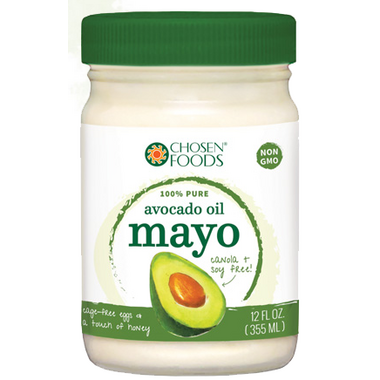 Chosen Foods Avocado Oil Mayonnaise


Chosen Foods avocado oil mayo is made with pure avocado oil instead of genetically modified, industrial seed oils like soy, corn & canola. This avocado oil mayo is high in Omega 9, the heart healthy (cardio protective) fat that is also found in olives and olive oil.
Features:


100% Cage-free, organic eggs
Mild flavor and creamy texture
Tastes just like traditional mayo that people love!
Primal and Paleo friendly
Ingredients: Avocado Oil, Organic Chickpea broth, Organic Vinegar, Organic Sugar, Water, Faba Bean Protein Powder, Salt, Mustard Flour, Organic Rosemary Extract, Modified Acacia Gum, Organic Gaur Gum, Xanthan gum, Organic Sunflower Lecithin, Citric Acid
Chosen Foods avocado oil contains eggs, but is free of and not processed on equipment that handles gluten, tree nuts, and soy.

WARNING: If you live in a part of the country with a cold winter climate, mayo may separate during transit. As a natural product, it may not reconstitute.