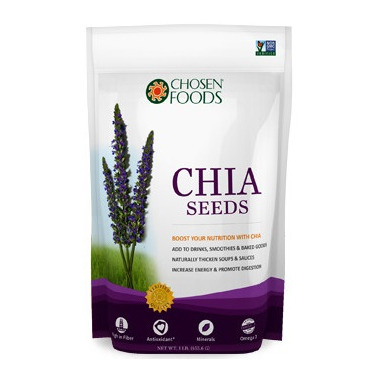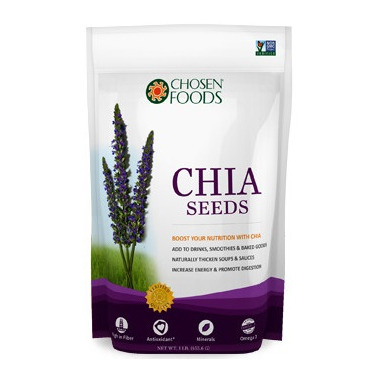 Chia is a recently rediscovered nutrient-dense powerhouse – once a staple of the Ancient Aztec warriors. With double the fiber, double the protein and over 500mg more omega-3s than ground flax. The fastest growing superfood trend for the last three years shows no signs of slowing down.
Chia's versatility comes from its almost non-existent flavor and its ability to be used ground or whole. You can sprinkle Chosen Foods Chia Seeds on salads, mix into smoothies, top oatmeal and other cereal and even use as a fat replacement in baking. When mixed with water, Chosen Foods Chia Seeds absorb up to 12x their weight.
Learn how to turn chia seeds into a delicious and healthy sweet treat with our
Chia Pudding Recipe
on our blog, The Well!
Benefits:
Grown 100% free of any chemicals, pesticides or herbicides
Double-cleaned for optimal purity - no plant debris
Highest plant source of omega-3
Loaded with fiber, protein and antioxidants
Virtually flavorless and so versatile
Ingredients:
100% Natural Chia Seeds