Clif Bar Nut Butter Filled Energy Bar
Chocolate Hazelnut Butter
50g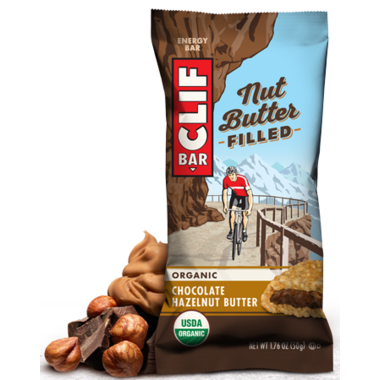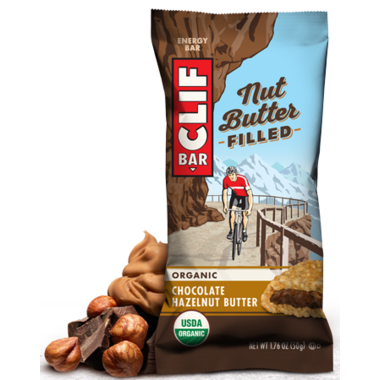 Clif Bar Nut Butter Filled Energy Bar
Chocolate Hazelnut Butter
50g
The athletes and foodies in the Clif kitchen have crafted a different kind of energy bar. CLIF® Nut Butter Filled Energy Bar brings together two great energy foods – a delicious, creamy nut butter inside an organic energy bar – to deliver sustained energy.
Ingredients:
Organic Nut Butter Blend (Organic Hazelnut Butter, Organic Cashew Butter, Organic Almond Butter), Organic Brown Rice Syrup, Organic Rolled Oats, Organic Oat Flour, Organic Pea Protein, Organic Date Paste, Organic Tapioca Syrup, Organic High Oleic Sunflower Oil, Organic Dried Cane Syrup, Organic Cane Syrup, Organic Rice Starch, Organic Brown Rice Protein, Organic Palm Oil, Organic Rice Flour, Organic Alkalized Cocoa, Vegetable Glycerin, Natural Flavors, Sea Salt, Organic Unsweetened Chocolate, Organic Coconut, Organic Cocoa, Sunflower Lecithin, Mixed Tocopherols (Antioxidant).
Allergen Statement:
Contains almonds, cashews, coconut, and hazelnuts. May contain soy, peanuts, wheat, other tree nuts, and traces of milk.


Laura:
a few months ago
I bought one of these when I was out shopping because I needed a boost of energy. I was very disappointed in this bar! As soon as you open it a big whoosh of strong, fake maple scent comes out. The bar tastes so strongly of maple cookies that I wasn't even able to taste the chocolate hazelnut butter. I can't figure out why they loaded it up on maple flavour when the package says nothing about maple at all. Also, the outer part of the bar was really dry and crumbly. I will definitely not buy one of these again.
Page
1