Taro
Clotrimaderm Cream 1%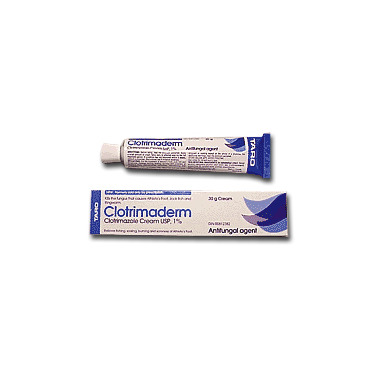 Taro
Clotrimaderm Cream 1%
50 g
Clotrimaderm Cream 1%
is rated out of
5
by
10
.
---
Description
For the treatment of Athlete's Foot, Jock Itch and Ringworm. Relieves itching, scaling, burning and soreness of Athlete's Foot. Non-stinging, odourless, non-staining and greaseless.
Should you require consultation with a pharmacist, you may contact our Well.ca Pharmacist. Please read the label, warnings and inserts provided by the manufacturer and consult your healthcare professional when purchasing medications or natural health products to be sure the product is right for you.
Chemical Name: Clotrimazole 1%
We are unable to offer Paypal as a payment option for orders containing this product.
Shipping & Returns
Unfortunately, due to the nature of this item, we cannot accept any returns.
We are only able to ship this item to Canadian customers.
This item cannot be shipped to Quebec due to provincial pharmacy regulations.
Click here for more information
Rated

4

out of

5
by
Susan
from
I found this cream very helpful in the warm moist creases of the body, ie: under breasts, belly flap and groin. I just read the other reviews and I'm going to try it on my terribly dry cracked skin on my feet! I've been using other specialized cream for my feet without much success! I don't know why I didn't think of it myself! Thanks for the suggestion Esther!
Date published: 2018-03-05
Rated

5

out of

5
by
Wid38
from
Clotrimaderm Cream-
I have been using this product for years and it is superb. Multiple uses and very good as advertised.
Date published: 2022-03-01
Rated

5

out of

5
by
Liz
from
This product worked amazingly. Used it the first time and it cleared up.
Date published: 2015-08-22
Rated

4

out of

5
by
Maria
from
This product is very good. it relieves your itch immediately.
Date published: 2016-03-08
Rated

4

out of

5
by
Tracey
from
Really helps to soothe irritation. Quite satisfied. I use it for a blemish problem on my face that is due to menopause/hormonal issues. My face just flairs up and gets itchy all over my cheeks and I put this on and it soothes it right away. Reduces redness.
Date published: 2016-02-06
Rated

5

out of

5
by
Esther
from
This cream is working great at getting rid of my cracked heels and red scaly patches on my hands. They aren't gone yet but I've seen more improvement with one tube than I have with any other product or prescription.
Date published: 2017-11-28
Rated

5

out of

5
by
Greg
from
I've tried several other over the counter anti-fungal creams for the treatment of jock itch, but this is the only one that worked for me and it worked very well.
Date published: 2012-04-30
Rated

5

out of

5
by
Patricia
from
Clotrimaderm works and soothes almost immediately. I've been using it for years for a chronic condition and it has never failed to give me relief.
Date published: 2013-08-22