Colace
Colace Docusate Sodium Stool Softener Syrup 4 mg per ml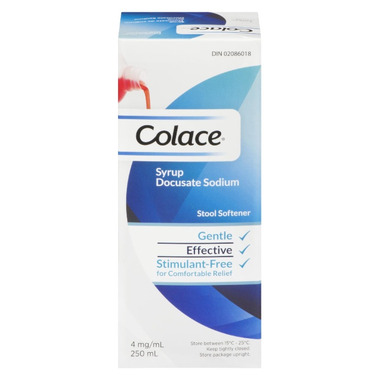 Colace
Colace Docusate Sodium Stool Softener Syrup 4 mg per ml
Description
Stimulant-free for comfortable relief of occasional constipation.

Features:

Gentle
Effective
Stimulant-free for comfortable relief
Dosage:
INFANTS AND CHILDREN UNDER 6: as prescribed by physician.
CHILDREN 6 TO 11 YEARS: 3 teaspoonfuls one to two times per day. Do not exceed a daily maximum of 6 teaspoons.
ADULTS AND CHILDREN 12 YEARS AND OLDER: 3 teaspoonfuls one to four times per day. Each teaspoon (5 mL) of COLACE® syrup contains 20 mg of docusate sodium. The syrup should be mixed with 120 mL of milk or fruit juice or in infant formula to mask the bitter taste. The effect of COLACE® syrup on the stools may not be apparent for one to three days after the first oral dose. Drink increased fluids (one full glass or more).
Storage: Store between 15°C - 25°C. Keep tightly closed. Store package upright.
Active Ingredient: docusate sodium 4 mg/mL
Non-Active Ingredient: citric acid anhydrous, D&C red no.33, FD&C red no.40, ethyl alcohol, menthol, methylparaben, orange flavour, mentha piperita (peppermint) essential oil, PEG-400, poloxamer 188, propylparaben, purified water, sodium citrate dihydrate, sucrose

Caution:
Do not use in the presence of abdominal pain, nausea, fever or vomiting. Frequent or prolonged use may result in dependence on laxatives. Do not administer COLACE® within two hours of another medicine, to avoid reduction of its effect or if you are taking mineral oil. Do not take for more than 1 week unless advised by a physician.
ASK A DOCTOR OF PHARMACIST BEFORE USE IF you are allergic to docusate sodium or any other ingredient in this product.
STOP USE AND ASK A DOCTOR IF: Rectal bleeding occurs, symptoms persist for more than one week or you notice a sudden change in bowel habits that persists over a period of two weeks.
IF PREGNANT OR BREAST-FEEDING, ASK A HEALTHCARE PROFESSIONAL BEFORE USE.
IN CASE OF OVERDOSE: Call a Poison Control Centre or a healthcare professional immediately, even if you do not notice any signs or symptoms.
KEEP THIS AND ALL MEDICATION OUT OF THE REACH OF CHILDREN.
SAFETY SEALED BOTTLE. DO NOT USE IF SEAL IS BROKEN.
Should you require consultation with a pharmacist, you may
contact our Well.ca Pharmacist.
Please read the label, warnings and inserts provided by the manufacturer and consult your healthcare professional when purchasing medications or natural health products to be sure the product is right for you.
Shipping & Returns
Unfortunately, due to the nature of this item, we cannot accept any returns.
We are only able to ship this item to Canadian customers.
This item cannot be shipped to Quebec due to provincial pharmacy regulations.
Click here for more information