Colace
Colace Original Glycerin Suppositories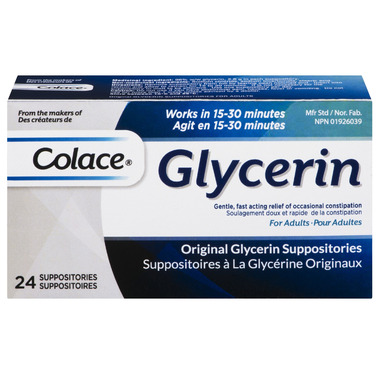 Colace
Colace Original Glycerin Suppositories
Description
Gentle, fast-acting relief of occasional constipation in 15 to 30 minutes.

Medical Ingredient:
96% w/w glycerin, 2.6 g in each suppository.

Non-Medical Ingredients (alphabetically):
sodium chloride, sodium stearate, stearic acid
Formerly WellSpring Original Glycerin Suppositories

Shipping & Returns
Unfortunately, due to the nature of this item, we cannot accept any returns.
We are only able to ship this item to Canadian customers.
Click here for more information