Culturelle Kids! Probiotic Packets
Heat Stable - Great for Travel
30 Packets
Supporting kids' natural defense systems is important to promoting their overall health as well as helping to alleviate occasional digestive distress.
Culturelle Kids! Packets support a child's health by fostering the proper balance between good bacteria and the non-benefical bacteria that resides in the gastrointestinal tract.
Culturelle Kids! Packets are easy to take, flavorless, and gluten free.
Heat Stable - Great for Travel
Benefits:
Forms part of a natural healthy gut
Helps manage acute infectious diarrhea
Helps manage antibiotic associated diarrhea
Helps reduce risk of antibiotic associated diarrhea
For anyone one year and older
Only product containing 100% Lactobacillus rhamnosus GG (LGG)
Suggested Use:
Tear open packet and pour powder into milk, onto yogurt or any cold food or drink. Do not add to warm or hot food or beverages. Culturelle Probiotics can be taken at any time of the day. If you are taking antibiotics, healthcare professionals recommend waiting for 2 hours before taking Culturelle.
Nutritional and Ingredient Information: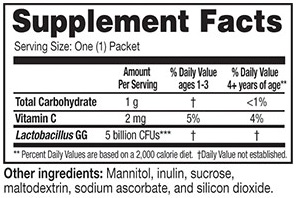 Cautions & Warnings: Consult a health care practitioner prior to use if your child has nausea, fever, vomiting, bloody diarrhea or severe abdominal pain. Discontinue use and consult a health care practitioner if symptoms of digestive upset (e.g. diarrhea) occur, worsen, or persist beyond 3 days.

Contra-Indications: Do not use if your child has an immune-compromised condition (e.g. AIDS, lymphoma, patients undergoing long term corticosteroid treatment). This product is made in facilities that handle milk and milk derivatives. If you have a milk allergy, do not use this product.

Please be advised that Well.ca follows manufacturer guidelines for storing & shipping probiotics.