Culturelle Probiotic Digestive Health
Heat Stable - Great for Travel
30 Capsules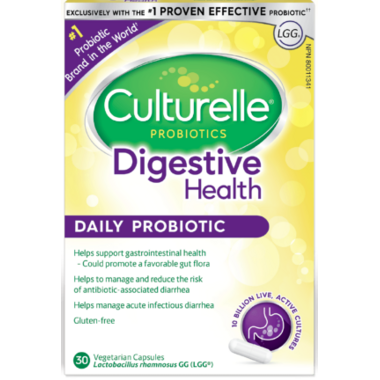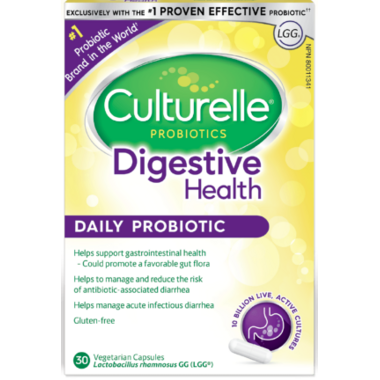 Culturelle Probiotic Digestive Health
Heat Stable - Great for Travel
30 Capsules
When the natural balance of good and bad bacteria in your intestinal tract is disturbed, your digestive health is open to a host of potential concerns. Culturelle, containing Lactobacillus GG, one of the most studied probiotic, and Inulin, a prebiotic, naturally replaces the bad bacteria, returning healthy balance to your intestinal tract, leaving your digestive system in balance.
Heat Stable - Great for Travel
Benefits:
Forms part of a natural healthy gut
Helps manage acute infectious diarrhea
Helps manage antibiotic associated diarrhea
Helps reduce risk of antibiotic associated diarrhea
For anyone one year and older
Only product containing 100% Lactobacillus rhamnosus GG (LGG)
Suggested Use:

For digestive health, take one (1) capsule per day until discomfort subsides, or as directed by a medical professional
When Traveling, take one (1) capsule twice daily throughout the trip. Best results if started two to three days prior to travel
For children 1 year or older, take one (1) capsule daily. Capsule may be opened and mixed into cool drink or food
Each capsule contains: 10 billion cfu of the probiotic strain Lactobacillus rhamnosus GG ATCC 53103
Non-medicinal ingredients: inulin, hydroxypropyl methylcellulose, sucrose, maltodextrin, sodium ascorbate, magnesium stearate, titanium dioxide (color), and silicon dioxide.
Supplement Facts:


Please be advised that Well.ca follows manufacturer guidelines for storing & shipping probiotics.