Daiya Alfredo Style Deluxe Cheeze Sauce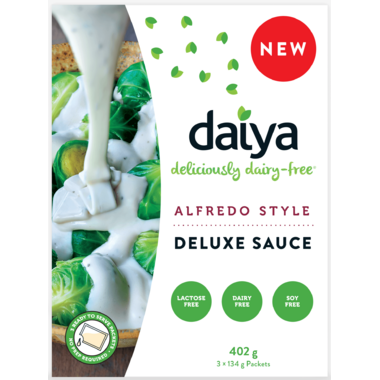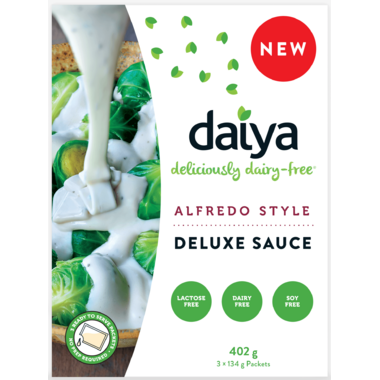 Daiya Alfredo Style Deluxe Cheeze Sauce
Here's a can-do sauce that opens all kinds of new options for creative goodness. It's the same 100% plant-based sauce as in Daiya's best-selling Deluxe Alfredo Style Cheezy Mac — rich, creamy, ready to serve. Liquid, not powder. Three packets per box. Excellent source of calcium.
Free of Allergens:
Soy, Eggs, Peanuts, Treenuts, Fish, Shellfish Dairy & Gluten-Free, Kosher.
Ingredients:
Filtered water, tapioca starch, non-gmo expeller pressed: canola and/or safflower oil, coconut oil, vegan natural flavours, sea salt, pea protein isolate, tricalcium phosphate, cane sugar, lactic acid (vegan), xanthan gum, titanium dioxide (a naturally occurring mineral), yeast extract, spices, onion, garlic.





Stacey:
a few months ago
I've only used this once, on spaghetti squash. I used it straight from the pouch and its very thick, but spreads once it's warmed by the squash. The taste was unexpected. It does taste like alfredo but with a big tang to the taste that i didn't expect. I'll need to try it with other things but in a world where you can't have regular alfredo this will fill the void.
Page
1