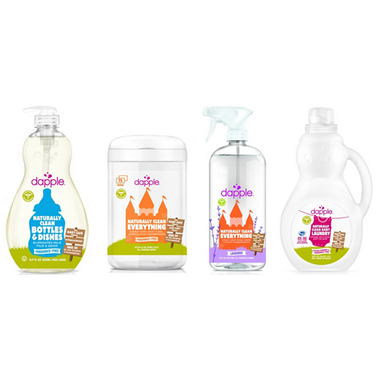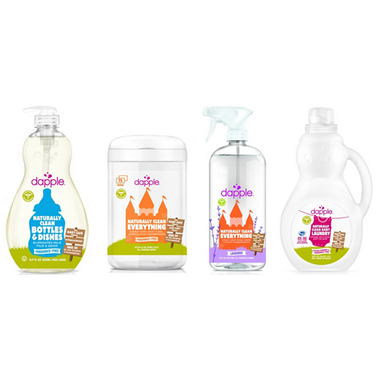 Includes:
Dish Liquid Fragrance Free 16.9oz / 500ml
All Purpose Wipes Fragrance Free 75 Wipes

Naturally Clean Everything All Purpose Cleaner 887 mL / 30 oz
Laundry Detergent Fragrance Free 1.47L/ 50 oz
Dapple Baby Bottle & Dish Liquid is available in a fragrance-free version! It is perfect for safely cleaning baby bottles, sippy cups, pacifiers, and breast pump components.
Dapple Surface Wipes for Highchairs, Toys, & More are perfect for cleaning what little hands touch – from toys to high chairs, swings and more.
Give yourself a break—and give the toys a bath instead, with Dapple Lavender Naturally Clean Everything All Purpose Cleaner.
Dapple HE Baby Fragrance Free Laundry Detergent is perfect for washing your little one's clothes in!