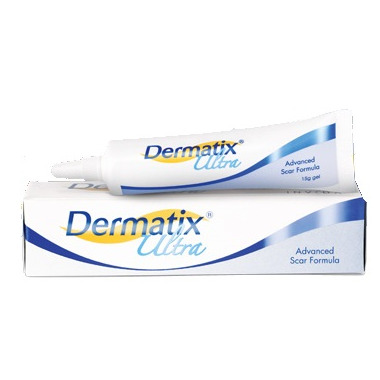 15 g
Dermatix Ultra Gel
is rated out of
5
by
16
.
---
Description
Dermatix Ultra Advanced Scar Treatment is a transparent, fast-drying silicone gel with unique qualities to make it ideally suited to help minimize or reduce signs and symptoms of abnormal scarring and aid in the development of hypertrophic scarring after surgery. Dermatix Ultra is effective for the reduction of hypertrophic and keloid scars. It has also been successfully used for the treatment of scars resulting from trauma, burns and general surgical procedures.

Dermatix Ultra has been shown to flatten, soften and smooth scars, relieving itching and discomfort. Silicone gels have consistently been shown to be well tolerated and suitable for both children and adults. Dermatix Ultra uses a new silicone technology that produces a film on the skin, providing skin protection in an esthetically acceptable manner, unique to other available scar gels. This new silicone technology imparts a soft silky feel to the skin, without any oily residue or buildup. Dermatix Ultra can be used under makeup and clothing.
Shipping & Returns
Rated

5

out of

5
by
Lindsay
from
This product is amazing! I have cystic acne which leaves horrible scarring and this product actually made them smoother and less noticable! Even on older scars it helped even them out! It can also acts as a primer and helps makeup glide on more evenly. As with all products, the key is repitition - apply a small layer onto the affected area and gently massage it in and let dry. I have a 15g tube that has lasted for over 5 months now! I definately recommend this product without hesitation!
Date published: 2010-11-30
Rated

5

out of

5
by
Tracey
from
I have already started to see results with this product after a couple weeks of using it. Scars have noticeably lightened. It goes on so smooth. My doctor recommended this product to me for my ingrown hair scars on my legs and I have also been using it on my acne scars. Would definitely purchase again.
Date published: 2018-08-20
Rated

5

out of

5
by
palpon
from
Great for new/fresh scars
This was recommended to me by a surgeon after a surgery I had in 2016. Went through 2 tubes of it with 2 months of daily use, but the (big) scar is virtually invisible now. It did a great job. Just repurchased for some new scars I have and it's exactly how I remember it. Smooth gel consistency and it goes on in a nice thin layer. You can get dressed right away and it doesn't gum/oil up your clothes. I have only used on fresh/new scars and although the tube is small for the price, the long term results are excellent so I would recommend it.
Date published: 2022-01-24
Rated

5

out of

5
by
procha
from
I have been using dermatix for about 3 weeks now, and everyone has noticed a difference. My scar is lighter, and the bump is also smaller.
Date published: 2014-10-21
Rated

5

out of

5
by
Mary
from
Very good result with a bad scarf after one week! I recommand this product!
Date published: 2014-05-02
Rated

5

out of

5
by
Molly
from
Started using deramtix ultra on a three week old surgical scar, the results are outstanding i am beyond impressed. Within 5 days noticeably smoother, lighter color, and seems to be disappearing before my eyes! I cant wait to see how its looking after 3 weeks!
Date published: 2018-06-01
Rated

5

out of

5
by
kate
from
This product is very gentle on the skin and seems to be helping a lot with the healing up of a recent surgery scar. The scar stays soft, itching is relieved, and it seems to be fading quite quickly, after about 2 weeks of using it so far.
Date published: 2011-11-16
Rated

5

out of

5
by
Chelsea
from
I bought this after I had something quite large removed from the centre of my forehead. Although I have an indent where the cut was it prevented my scar from looking nasty and red or raised. It feels great and applies well under makeup.
Date published: 2018-06-25