Diovol
Diovol Regular Strength Liquid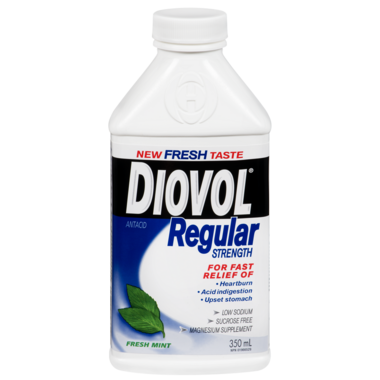 Diovol
Diovol Regular Strength Liquid
Description
Whenever over-eating, daily stress or certain foods result in heartburn, acid indigestion or gas, reach for DIOVOL. DIOVOL is one of Canada's most trusted, effective and fast-acting antacids for quick, reliable, long-lasting relief of occasional digestive problems.
Features:
Fast relief of acid indigestion and heartburn
Mint flavour
Made in Canada
Directions:
Adults and Children 12 years and older; take 2 to 4 teaspoonfuls (10 mL to 20 mL) after meals and at bedtime, as needed. Do not take more than 16 teaspoonfuls (80 mL) in 24 hours. Shake well before using.
Medicinal Ingredients:
Aluminum hydroxide (as aluminum hydroxide compressed gel) 165 mg, Magnesium hydroxide 200 mg
Non-medicinal Ingredients (alphabetical order):
alcohol, ammonium glycyrrhizinate, benzyl alcohol, calcium disodium EDTA, cetylpyridinium chloride, glycerin, guar gum, natural peppermint flavour, purified water, saccharin sodium, sodium cyclamate, sorbitol, xylitol

Caution:
Do not use: In children under 12 years of age, except if directed and supervised by a doctor. Within 2 hours of another medication (as the effect of the other medication may be altered). If you are pregnant. If you are on a low salt diet. Ask a doctor or a pharmacist before use if you are breastfeeding or have kidney disease. Stop use and ask a doctor if symptoms reoccur or symptoms last for up to 2 weeks. Keep out of reach of children. In case of overdose, call a poison control centre or get medical help right away.
Shipping & Returns
Unfortunately, due to the nature of this item, we cannot accept any returns.
We are only able to ship this item to Canadian customers.
Click here for more information