Douglas Laboratories Infla-guard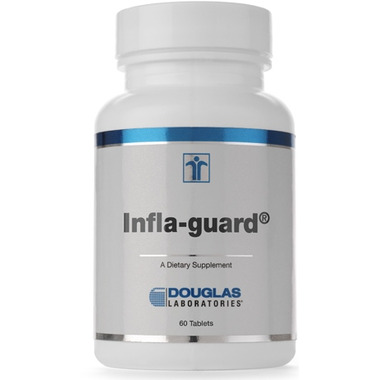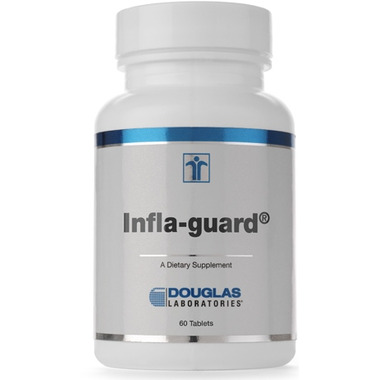 Douglas Laboratories Infla-guard
Infla-Guard®, provided by Douglas Laboratories®, contain a synergistic combination of three standardized botanical extracts: Boswellia serrata, turmeric root, and Devil's Claw. Infla-Guard® tablets are coated with an acid-resistant enteric coating to protect the integrity of the Devil's Claw extract which may lose effectiveness when exposed to hydrochloric acid in the stomach.

Key Ingredients:


Boswellia serrata extract:
Purified oleoresin from the Boswellia serrata tree, native to India, contains boswellic acids, which have been shown to be responsible for the tissue-protective actions of this extract. Boswellic acids appear to act by inhibiting the production of leukotrienes. Boswellic acids are reported to increase blood supply to joint tissues, thereby preventing normal, age-related decline of cartilage synthesis. The extract from Boswellia serrata resin, standardized to contain a minimum of 65% boswellin, is an integral component of Infla-guard tablets.
Turmeric root extract:
Curcumin is the yellow pigment contained in turmeric (Curcuma longa), a popular culinary spice from India. In addition to imparting a characteristic color and flavor to foods, curcumin has antioxidant properties and beneficial action on tissue health. Like boswellic acids, curcumin inhibits mediators, including thromboxanes and leukotrienes. As an antioxidant, curcumin protects against oxidative damage. Additionally, there is evidence that curcumin may strengthen the body's natural physiological responses.
Devil's Claw extract:
The tubers of this South African plant are rich in iridoid glycosides, in particular harpagosides. The harpagosides benefit connective tissue metabolism by supporting the immune response to physiological stressors.
Indications:
Infla-guard tablets provide a convenient combination of standardized extracts of Boswellia serrata, turmeric root, and Devil's Claw for individuals wishing to obtain the benefits of these complementary botanical extracts.
This product contains NO yeast, wheat, gluten, soy, milk/dairy, corn, sugar, starch, artificial coloring, artificial preservatives or genetically modified
organisms (GMOs).
Suggested Usage:
As a dietary supplement, adults take 2 tablets daily or as directed by your healthcare professional.