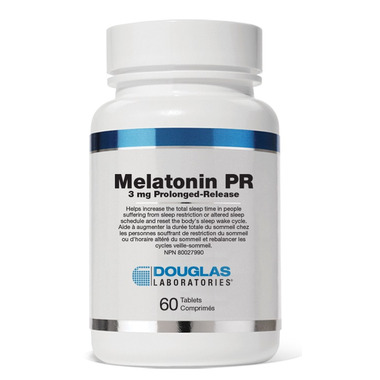 Description
Melatonin P.R., provided by Douglas Laboratories®, contain 3 mg of the purest pharmaceutical grade of melatonin, in a prolonged-release, bisected tablet.
Melatonin is a natural hormone nutrient that is synthesized from the amino acid tryptophan by the pineal gland in the back of the brain. Melatonin also occurs in small amounts in a variety of foods. In the body, melatonin appears to regulate sleep/wake cycles, support normal immune function, and protect cells from free radical damage.
Indications:
Melatonin P.R. tablets may be a useful dietary supplement for individuals wishing to supplement their diet with melatonin.
This product contains NO yeast, wheat gluten, soy protein, milk/dairy, corn, sodium, sugar, starch, artificial coloring.

Suggested Usage:
As a dietary supplement, adults take 1 tablet 1 hour before bedtime as directed by your healthcare professional only.
Ingredients: Each Tablet Contains: Melatonin/ Mélatonine.............................................. 3 mg
Non-medicinal ingredients: Cellulose, dicalcium phosphate dihydrate, ethylcellulose, stearic acid, magnesium stearate, silica, tablet coating (hypromellose, glycerin)
Warning:
Not to be taken by individuals under the age of 18. If you are pregnant, nursing, taking any prescription medication (especially hormone replacement therapy), or have an autoimmune or depressive disorder consult a physician before using this product. Long-term use of melatonin has not been studied. Use of this product could cause hypothermia. Do not use before or while operating
a motor vehicle or heavy machinery.
Highlights

Ingredients
Each Tablet Contains: Melatonin/ M?latonine.............................................. 3 mg Non-medicinal ingredients: Cellulose, dicalcium phosphate dihydrate, ethylcellulose, stearic acid, magnesium stearate, silica, tablet coating (hypromellose, glycerin)
Shipping & Returns