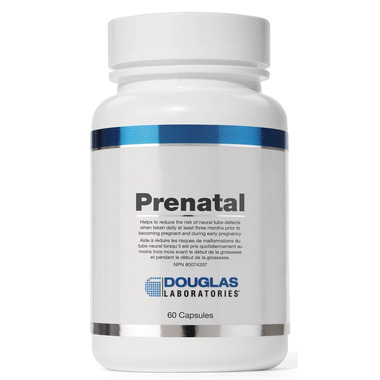 60 Capsules
Douglas Laboratories Prenatal
is rated out of
5
by
1
.
---
Description
Douglas Laboratories Prenatal provides a variety of essential vitamins and minerals to ensure adequate intake for both mother and child. This balanced prenatal formula is provided in easy to swallow vegetarian capsules and promotes maternal and fetal health during pregnancy and lactation. Prenatal contains Metafolin®, a patented and natural form of L-methylfolate (5- MTHF). L-methylfolate is the naturally occurring, predominant form of folate commonly found in cells. It is essential for a developing fetus, and helps to reduce the risk of neural tube defects when taken daily prior to becoming pregnant and during early pregnancy. Unlike synthetic folic acid, L-methylfolate can be used directly by the body, without the need for an additional enzymatic conversion. In certain populations, the body's ability to enzymatically convert folic acid to 5-MTHF may be compromised due to genetic differences. Metafolin® contains only the S isomer of 5-MTHF and is the only form of folate that can cross the blood-brain barrier. Prenatal also contains important vitamins and minerals that help support energy production, antioxidant defence, skin and healthy glucose metabolism, as well as immune, muscle and thyroid gland function.
Features:
Helps to reduce the risk of neural tube defects when taken daily at least three months prior to becoming pregnant and during early pregnancy
Ingredients:
Calcium (Calcium citrate) 75 mg
Vitamin C (Ascorbic acid) 40 mg
Magnesium (Magnesium citrate) 37.5 mg
Vitamin E (d-alpha Tocopheryl acid succinate) 16.75 mg AT/25 IU
Iron (Iron, Carbonyl) 13.5 mg
Niacinamide 10 mg
Pantothenic acid (Calcium D-pantothenate) 5 mg
Zinc (Zinc citrate) 5 mg
Lutein (Tagetes erecta – Flower) 1.5 mg
Beta-Carotene (Dunaliella salina – Whole) 1500 mcg (2500 IU)
Vitamin B6 (Pyridoxine hydrochloride) 1 mg
Riboflavin 0.85 mg
Thiamine (Thiamine mononitrate) 0.75 mg
Copper (Copper bisglycinate chelate) 0.5 mg
Manganese (Manganese citrate) 0.5 mg
Folate (Calcium L-5-methyltetrahydrofolate) (Metafolin®) 400 mcg
Biotin 150 mcg
Chromium (Chromium nicotinate) 75 mcg
Iodine (Potassium iodide) 75 mcg
Molybdenum (Molybdenum bisglycinate) 37.5 mcg
Selenium (Selenomethionine) 37.5 mcg
Vitamin D3 (Cholecalciferol) 10 mcg (400 IU)
Vitamin B12 (Methylcobalamin) 5 mcg
Metafolin® is a registered trademark of Merck KGaA, Darmstadt, Germany.
Highlights

Shipping & Returns
Rated

5

out of

5
by
maryah
from
Preferred Prental
It;s my first pregnancy and while it's been a smooth ride, I had no issues with taking these at all. Unfortunately they were sold out after my 2nd trimester so I opted for Thorne as the alternative - which makes me burp and leaves mildly awful taste in my mouth. I can see how someone who experiences nausea during their pregnancy would be put off by this. Douglas Lab Prenatal is definitely worth trying - it was perfectly digestible.
Date published: 2021-04-10