Dove
Dove Dry Spray Antiperspirant Beauty Finish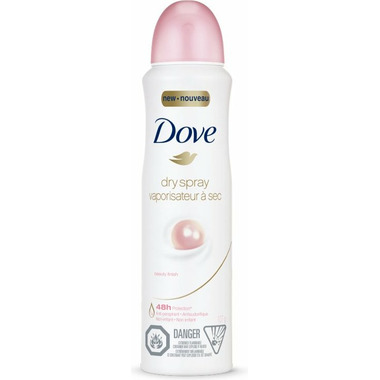 Dove
Dove Dry Spray Antiperspirant Beauty Finish
107 g
Dove Dry Spray Antiperspirant Beauty Finish
is rated out of
5
by
43
.
---
Description
We all spend plenty of time on our skin and hair care regimens, but it's easy to forget about underarm care. Frankly, our underarms deserve better! Save time and start your day with a beautiful boost from Dove Dry Spray Antiperspirant Deodorant Beauty Finish. Part of the Dove Dry Spray range, this antiperspirant deodorant spray means you can get dressed instantly without the fear of wet patches on your clothes.
The alcohol-free formula contains ¼ moisturizing cream to provide great underarm care. This antiperspirant deodorant can give you soft, smooth underarms while providing protection from odour and wetness for 48 hours, so you can feel confident through the day and all through the night.
How to use:
To ensure complete antiperspirant protection, give the can a good shake, lift your arm above your head, then spray your underarm and repeat again with the other one. The aerosol is best held about 15 cm away from your skin and spritzed for around two seconds.
Features:

Provides 48 hour protection
Contains ¼ moisturizing cream for soft and smooth underarms
Helps delicate underarms recover from shaving discomfort caused by dryness
Sprays on instantly dry
0% alcohol formula cares for delicate underarms
Super-fresh scent of pomegranate and lemon verbena to help revitalize the senses
Ingredients:

Active Ingredient -- Aluminum Chlorohydrate (20.2%).

Inactive Ingredients -- Butane, Hydrofluorocarbon 152A, Cyclopentasiloxane, Isobutane, Ppg-14 Butyl Ether, Fragrance, Helianthus Annus Seed Oil, Disteardimonium Hectorite, C12-15 Alkyl Benxoate, Propane, Bht, Octyldodecanol, Propylene Carbonate, Dimethiconol, Tocopheryl Acetate

Shipping & Returns
Rated

1

out of

5
by
Sheryl
from
Pass it by
Because this was NEW and the store was promoting the sale, I decided to try Dove's antiperspirant 0% alcohol and was I ever disappointed. Dove is a Canadian name, and a trusted product. It sure let me down. This is VERY difficult to try and spray into your armpit, from the new dispenser that Dove added. Then, a BLAST comes out (NOT where you want it to go) and for the rest of the day your clothes are ruined; you can smell the antiperspirant (NOT where you want it to be) So, I do not like, at all this product, and this is a very solid Review I am writing - but will Dove hide this Review? Or, will it be fair, and allow the public to read a negative review?
Date published: 2021-06-13
Rated

3

out of

5
by
JodyLeitch
from
(This review was collected as part of a promotion.) This one was hard to rate because I love all dove products and so I decided to try this and it smells really good but way too expensive. I have very sensitive skin under my armpits so when I spray this it just burns and hurts way too much so I can't use it but I used it in other areas that I have been sweating this very hot summer sucheck as my lower back and when I wear a dress and my inner thighs rub together and this has worked amazing for thay. So yes I know it works in some cases and it may work great for other for their armpits but it just doesn't work for me..
Date published: 2016-08-13
Rated

5

out of

5
by
lori
from
Need more products of this scent
I LOOOOve this new product. I have told everyone I know, including the girls I work with. The scent is the best and I am only sad that it doesn't come in any of your other products! I wish it could be my new SIGNATURE scent. It is fresh clean and not over powering! I would most like a body spray using this Beauti Fresh Scent...please contact me if it ever becomes a thing!!!
Date published: 2015-07-03
Rated

2

out of

5
by
Rainartist
from
Not Great
They say this is a "dry" spray but no matter how little I use or how carefully I spray it, I still end up with sticky, wet armpits. I end up holding my arms up for several minutes until it's mostly dry or if I don't have time, I have to wipe it off. The scent is also quite unpleasant but thankfully it's not that strong. I don't like lab-produced fragrances, they smell like chemicals. As for the performance, it's ok but not great. I still get damp under my arms and I have to reapply the spray to stay dry. I don't know if it leaves any residue since I've been wearing sleeveless tops lately, but I've had other antiperspirants leave residue on these types of tops and so far this hasn't. Overall I'm not impressed. I'll finish this can but I won't buy it again.
Date published: 2018-07-05
Rated

5

out of

5
by
Anonymous
from
Feminine
I really love the feminine and subtle scent of this antiperspirant. I have been using it for several days now and am delighted with its effectiveness! This is the first time that I have used Dove for my underarm care and I was pleasantly surprised by the fact that it really did dry immediately and left no marks on my clothing. Thank-you, Dove; it's a keeper!
Date published: 2015-05-12
Rated

3

out of

5
by
victoriakxo
from
(This review was collected as part of a promotion.) I am always in search for a good - invisible - deaoderant. I was excited to try to Dove spray, however was disappointed after a few days. It works at first - smells great and is invisible. But it quickly creates little balls of white on my armpits. The easy thing is that you can wipe it off and spray on some more - but I prefer to not have to reapply more than once a day. Smells great though! but not a great formula.
Date published: 2016-08-16
Rated

4

out of

5
by
Eveilynrose
from
(This review was collected as part of a promotion.) I first came about this product when my sister purchased it- and decided to try it one day- I ended up really liking it: the scents are fresh and lasts all day, it kept me feeling dry all day long, and best of all, applying this product is very easy and is a great alternative to your usual use of antiperspirant! Since then, I've switched to these guys and I haven't looked back!
Date published: 2016-08-12
Rated

5

out of

5
by
nickeram
from
(This review was collected as part of a promotion.) I was a bit skeptical trying this product at first. I assumed since it was a spray that it wouldn't be as affective as a traditional stick antiperspirant. I was pleasantly surprised. Firstly, it did not react with my light coloured shirts and bras like some antiperspirants do, and I could still smell it well into the day. I would highly recommend.
Date published: 2016-08-10