Dove
Dove Style+Care Curls Mousse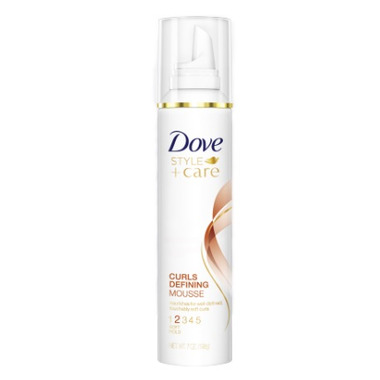 Dove
Dove Style+Care Curls Mousse
198 g
Dove Style+Care Curls Mousse
is rated out of
5
by
27
.
---
Description
There's nothing like beautiful curls or waves to make you feel special. And any woman with curly hair knows that it needs care that's just as special to stay looking its best. With Nutri-Style Complex formula, this hair mousse nourishes and protects curls from root to tip. Its lightweight, whipped cream texture helps to bring the best out of waves and curls, adding definition to bouncy hair, but without leaving hair feeling crunchy or weighed down.

Safeguarding against frizz, static and flyaways, Dove hair mousse helps gives you healthy-looking hair and perfectly polished, long-lasting shape, in one simple step. So you get touchably soft, beautiful curls that look as good as they make you feel.

Features:
For defined, bouncy curls
Provides volume and bounce
Leaves hair touchably soft
Protects against frizz, fly-aways, and split ends
With nutri-style complex
Ingredient: Water, Sodium Laureth Sulfate, Cocamidopropyl Betaine, Cocamide Mea, Fragrance, Glycerin, Ppg-9, Ammonium Chloride, Citric Acid, Tetrasodium Edta, Methylchloroisothiazolinone, Methylisothiazolinone, Blue 1, Red 33.

Shipping & Returns
Rated

5

out of

5
by
Jenn204
from
Best Mousse Ever!!
I have tried several mousse's over the year and nothing compares to this product. Most Mousse leaves hair crunchy and wet looking, however this mousse does the opposite. It makes my curly hair bouncy, soft and look perfect while controlling the frizz. I have had several compliments on my curly hair and I always refer this product. It's affordable and very effective, I find it better than salon quality products. I use very little as well. Thank you Dove for creating an affordable product that leaves my curly bouncy and soft! I highly recommend this product!
Date published: 2017-03-13
Rated

1

out of

5
by
luvalotmum
from
Hurt my hand!!!!!!
I have bought this product numerous times, because it is the only product out there that manages my curly hair! The downside of the this product is that the nozzle gets clogged, and after a few uses, the whole can is garbage! I only use it, once in while, since I LOVE the result, but hate the cost of buying more after a few uses. Just recently, I started a brand new one, and before the "mousse" came out, a mist of "something" came out on my hand, it HURT and burned. It did not leave a mark on my skin, but now I am wondering why this happened!?
Date published: 2016-05-21
Rated

5

out of

5
by
Kel79
from
Bring it back!
I have been trying to find this mousse everywhere, but it's not on the shelves anymore! Do you have a comparable product? You can't get rid of a product that many people rely on without introducing something similar, or having something similar that people can switch to. I have used this for years - it's the only thing that works with taming the frizz and mess of my extremely curly hair. Now I don't know what to do. I can't leave the house without styling my hair with mousse because it looks messy without it. Why on earth would you get rid of this product?
Date published: 2022-06-27
Rated

2

out of

5
by
Leslie
from
New scent is AWFUL
I've used thecurls defining mousse for years. I have fine, curly hair, and this was the only mousse that gave volume without being crunchy. I have sensitive skin and am a loyal Dove customer. Today i started a new can, and the smell is horrible! Like old man cologne! What did you do???? I don't have time to rewash my hair, and hope i don't have to smell this all day
Date published: 2019-10-08
Rated

5

out of

5
by
Pamela71
from
Great product!!!
I love this mousse! It's the only one that holds.....no frizz buy is NEVER stiff and crunchy and keeps my hair healthy looking and shiny. I've read that some people have had a problem with the nozzle clogging but just rinse it under water before putting the lid back on. Mu only concern is that I've been having a hard time finding it lately and have had to try the new curls one with the gold/yellow/ brown and white can and I don't like it near as much so please don't get rid this one!!!!
Date published: 2017-01-05
Rated

1

out of

5
by
gjl258
from
Not the same as before
I bought the Dove Curl & Sculpt mousse for years before they changed to this new formula. The old one was so much better. This one leaves your hair sticky and weighed down. The scent in all Dove products seems to have changed in the past few years to a stronger, different scent which I find over powering. To me it seems that the products across the board are becoming worse and worse, which really disappoints me because I used to buy almost only Dove products! Shampoo and conditioner, soap, hair treatments, lotion, and the old mousse! I've had to adjust all my products to find new ones that work because the formulas have been changing. The mousse is my most disappointing one because it has been so hard to find a good replacement. Previously I loved the Dove products, now you've lost a loyal customer.
Date published: 2015-02-19
Rated

2

out of

5
by
heatherc
from
poor packaging but good product
I like the mousse but I bought numerous cans with one type of top that hardly ever worked, waisted a lot of money. now you have another type of top that was working good but I would say the last 12 cans or so don't work very well and can only use 3/4 to half the can. I am seriously considering finding another product. I am a full dove user, soap, shampoo, conditioner, body wash, mousse ect
Date published: 2015-04-22
Rated

1

out of

5
by
Zenna2213
from
Doesn't work
Doesn't work at all just made my hair crunchy and sticky will definitely not buy again
Date published: 2019-05-23