Dr. Bronner's
Dr. Bronner's 4-in-1 Sugar Baby Unscented Organic Pump Soap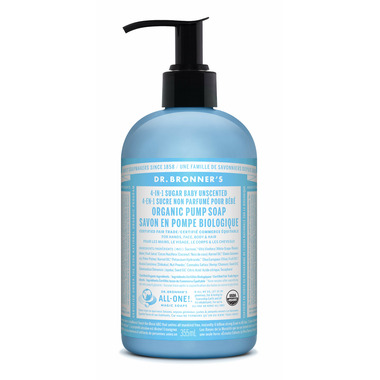 Dr. Bronner's
Dr. Bronner's 4-in-1 Sugar Baby Unscented Organic Pump Soap
356 mL
Dr. Bronner's 4-in-1 Sugar Baby Unscented Organic Pump Soap
is rated out of
5
by
141
.
---
Description
Dr. Bronner's 4-in-1 Sugar Baby Unscented Organic Pump Soap is certified by the same National Organic Program that certifies food. Dr. Bronner's pump soaps are smooth and luxurious with no synthetic detergents or preservatives. Sweet to the body and planet! Fair trade & organic sugar gives these Organic Pump Soaps a rich caramel color and sweet scent. The sugar combines with organic white grape juice to keep your skin nourished, hydrated and smooth.

Ingredients: Organic White Grape Juice, Organic Sucrose*, Organic Coconut Oil*, Potassium Hydroxide**, Organic Olive Oil*, Organic Shikakai Powder, Organic Hemp Oil, Organic Jojoba Oil, Citric Acid, Tocopherol
Highlights

Shipping & Returns
Rated

5

out of

5
by
ShirlyB
from
Best soap ever
I can't say enough how happy I am with this soap. I have rosacea and irritable skin that doesn't like anything but this soap works and doesn't annoy my skin. It also manages to remove makeup and the best part is you can use it as a hand soap, or I wash my eyes with it, or body etc. I like that it does it all and no cloying smell. Wish I had discovered this soap when my kids were young instead of using more harsh stuff. Only drawback is that it's very expensive. (I also like this version because it's thicker than the other Dr. Bronner's soaps, so comes out of the pump better).
Date published: 2020-02-23
Rated

5

out of

5
by
Elizabeth
from
Thank you for this product. I have purchased several times now; the change in my children's skin is remarkable (after just several days of use). My daughter has been dealing with molluscum virus for about 1.5 years now. Her skin was getting more and more irritated, and red with increasing lesions, after applying this soap to a wet paper towel and rubbing here skin gently followed by a nice warm bath, her skin has transformed (and we have tried so many soaps, creams etc,), she almost perfect and super silky skin now making me wonder if this treatment may help other individuals with molluscum. My son who has very dry and itchy skin also benefits. And I find it less drying than other hand soaps I have tried.
Date published: 2014-04-23
Rated

5

out of

5
by
Cindy
from
I have always loved these products because they are so gentle on the skin. Recently my sister has been going through chemo and she has to be so careful of all skin products because her skin is so dry and delicate. I got her the baby unscented soap and she is loving it, uses it as a shampoo and soap for showers and hand washing, says it keeps her skin feeling so much softer and rinses off clean, best endorsement you could get!
Date published: 2013-11-22
Rated

5

out of

5
by
Nicole
from
This stuff is a dream to use ...
This soap? Let me put it this way: I have a really, really hard time using this stuff because every time I do I end up standing at the kitchen sink in some sort of trance-like-daydream as I about float into the air in a delightful stupor all because my hands are getting the BEST CLEAN OF THEIR LIVES as they are swirled around by the creamiest, smoothest, softest NON-DRYING stuff in the world. I mean, honestly Dr. Bronner's, did you have to make this so good? I do have a life to live ya know, I can't just spend every minute of every waking day looking for a reason to wash my hands! ;D
Date published: 2023-08-10
Rated

5

out of

5
by
Andrea
from
I have very sensitive skin and react too most soaps and lotions... not this one. It has a slight scent but does not bother me at all. I have not used this on my face...only on my hands and for shaving my legs. Lasts a long time and you only need a small amount as it lathers quite nicely. SO GREAT THAT THIS PRODUCT IS 100 PERCENT NATURAL!!!
Date published: 2014-06-30
Rated

5

out of

5
by
IngridH
from
My hands love this
I have found my hand soap! I have a sensitive nose, sensitive skin, and recurrent eczema on one palm. This unscented soap smells like caramel, and it's a joy to inhale a pleasant scent that doesn't aggravate any of my health conditions. It's also the best soap I've found for my eczema because it leaves my hands feeling clean but not stripped of moisture. A third plus is that it works in any soap dispenser because it's thick like drug store soaps. I'll continue to use Bronner's pure castile for dishes and floors, but for hands the sugar soap is my new go-to!
Date published: 2022-03-01
Rated

5

out of

5
by
Nolan
from
Best soap ever
Best soap I have ever used. Super sensitive skin here, having many bouts of dry skin and eczema until I found this gem. Great for year round use and never have to change your soap because of seasonal changes. Also not just an amazing body wash but great for the hair. My hair is so much healthier since I started washing with DB baby compared to regular shampoos. And my skin has also cleared up do to not using regular shampoos that are filled w greasy chemicals and heavy fragrances. This soap has changed my life for the better. Thanks DB
Date published: 2022-03-30
Rated

5

out of

5
by
Amie
from
Best soap! Kind of looks like a sugar/honey colour and consistency. Super gentle on skin. I have had issues with so many other soaps before and during my pregnancy drying out my hands and making them peel. This soap helped heal them right up and remain soft. We keep this soap in the bathroom closest to the baby's room so we have soft clean hands before and after diaper changes.
Date published: 2016-05-20