Dr. Bronner's
Dr. Bronner's Organic Pure Castile Liquid Soap Baby Unscented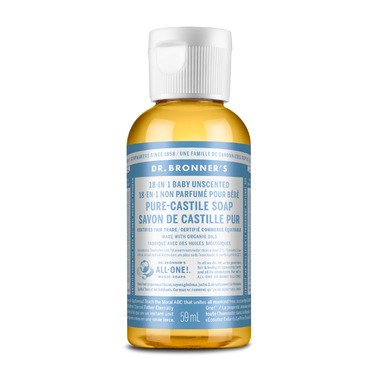 Dr. Bronner's
Dr. Bronner's Organic Pure Castile Liquid Soap Baby Unscented
59 mL
Dr. Bronner's Organic Pure Castile Liquid Soap Baby Unscented
is rated out of
5
by
284
.
---
Description
Dr. Bronner's Organic Pure Castile Liquid Soap unscented baby contains no fragrance so is great for people who have allergies or sensitive skin. Of course, it is great for babies as well. All oils and essential oils are certified organic to the National Organic Standards Program. Packaged in 100% post-consumer recycled plastic bottles.

Ingredients: Water, Organic Coconut Oil*, Potassium Hydroxide**, Organic Olive Oil*, Organic Hemp Oil, Organic Jojoba Oil, Citric Acid, Tocopherol.
* Certified fair trade.
Highlights

Shipping & Returns
Rated

5

out of

5
by
JSkye
from
Dr. Bronner's Baby Unscented Castile Liquid Soap
I LOVE using Dr. Bronner's Hemp Baby Unscented Pure Castile Liquid Soap for my personal care as I have sensitivities to harsh ingredients and fragrances. This product feels very gentle on my skin, does not cause any irritation, and very little product is needed to produce a wonderful, clean lather. I used to purchase expensive makeup removers / facial oils to remove makeup and this product cleans makeup off extremely well, and best of all, it doesn't feel harsh! I use this product head-to-toe and purchase in the gallon size often! Please keep your prices affordable for your lifetime consumers! Thank you, Dr. Bronner.
Date published: 2021-09-11
Rated

5

out of

5
by
Josh
from
Super ethical and cleans well
Super ethical product -- vegan, organic, non-toxic, biodegradable, and even fair trade I think! It works really well to clean things, and it's gentle enough to use with pets. Your one soap for everything, from handwashing to showering to laundry to pet care and more! Fantastic product, other than I wish they left religious stuff off the product. My parents won't let me buy more because they don't believe in sharing what they consider false beliefs. I think companies should try to be neutral about that stuff to allow more people to feel comfortable using this product. Other than that, it's awesome!
Date published: 2023-08-05
Rated

5

out of

5
by
SnowyMeadow
from
The one and only soap for my family
I started making my own foaming soap when I was told my baby had eczema. This works beautifully for everything we clean in our home. I can always count on it to clean thoroughly and without damaging anything delicate. I also dilute it and use it to clean my Great Pyrenees and no one can believe how well it works on her..I switched to this the moment I found out she had skin issues. I am still amazed at how powerful it cleans yet how gentle it is. Also, I've tried other brands, but nothing comes close to this in consistency, cleaning power, or gentleness. I love it and trust this with my family.
Date published: 2022-12-19
Rated

5

out of

5
by
OpalMarie
from
The best for sensitive skin needs
I have much love for Dr. Bronner's Soaps and have tried all of them. Over the past two decades, my top favorites have been -- No. 1 Peppermint and No. 2 Lavender. Before a recent surgery, I was advised to use Dove's Antibacterial Soap, continuing to use it during recovery. While for most an excellent brand, I ended up with a painful rash. Well, Dr. Bronner's Baby Unscented came to my rescue. My rash disappeared, leaving my skin in excellent condition and with a newfound top favorite. I've learned my lesson. It's Dr. Bronner's soap or nothing else will do -- for my skin.
Date published: 2023-11-05
Rated

5

out of

5
by
Anonymous
from
an essential/staple for my household
This product is my favorite cleaning/cleansing product out there. I tried out the peppermint one first, but have since changed to the unscented because I love to add my own essential oils to the unscented product. I use it for all my laundry (machine + hand wash), home floors + countertops/tables, body + hair cleansing, dog + dish washing! SO versatile, I only have a few MAIN products I use, THIS is one of them. I prefer the bar for body cleansing and small hand wash tasks, but still Dr. Bronner's unscented. I wish there was a way to just head out to a spot and refill a gallon jug when I am running low. I'm willing to travel. I truly believe in this product and consider it essential for any natural household.
Date published: 2021-03-23
Rated

5

out of

5
by
Mary
from
Not just for babies!
Let's be honest, Dr. Bronner's soap is expensive! I've used it on and off for years because it thoroughly cleans everything I've used it on without leaving a soapy residue or lingering scent; it cleans cleanly! Occasionally, however, I try to find a similar product at a lower price, but I'm always disappointed and I always come back to Dr. Bronner's. This last order of Baby Unscented will replace another less expensive, but yet again disappointing brand of "pure, castile soap. I like all of the scents, but keep a bottle of the unscented on hand for guests who don't care for scented soaps on body or clothes. Dr. Bronner's is more concentrated and cleans far better than any other castile soap I've tried, and I'll never stray again!
Date published: 2021-02-14
Rated

1

out of

5
by
Shannon
from
This is the worst soap I\'ve ever used period. Yes, it did make my skin feel soft and had a great lather, but it literally smells like vomit. I got out of the shower and was nearly ill, and my partner was also revolted by the smell. I used it in my hair and it left my hair a greasy mess. I had to shower three times with dish soap to get the film out of my hair and smell off my skin, and even then a day later I\'m still smelling a bit of that vomit smell.
Date published: 2011-04-29
Rated

5

out of

5
by
SouthSideRich
from
Literally Best Soap in the World
Dilute and use for EVERYTHING! Gentler than earlier recipes so can use on face/sensitive skin however rinse before too long. When there's ANYTHING that requires maximum cleaning ability I instinctly go to Dr. Bronner's. (I wash dishes with Dawn.) Oh and I use Baby Unscented these days because of research showing how various essential oils can mess up endocrine structures/testosterone etc. It used to be only the punx would have Dr. Bronner's (children of the hippies) however with more and more "punk" out there; so to... The Dr. Bronner's! ❤
Date published: 2022-12-19