Dr. Bronner's
Dr. Bronner's Organic Pure Castile Liquid Soap Rose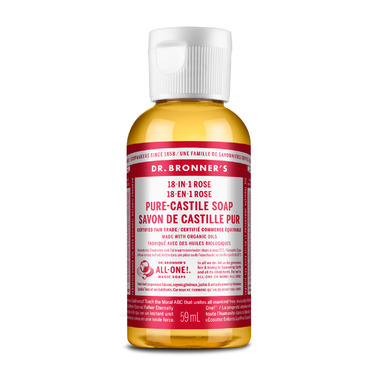 Dr. Bronner's
Dr. Bronner's Organic Pure Castile Liquid Soap Rose
2 oz
Dr. Bronner's Organic Pure Castile Liquid Soap Rose
is rated out of
5
by
175
.
---
Description
Dr. Bronner's Rose Organic Pure Castile Liquid Soap with its beautifully blended natural essential oils has an elegant and romantic traditional feel. All oils and essential oils are certified organic to the National Organic Standards Program. Packaged in 100% post-consumer recycled plastic bottles.

Ingredients: Water, Organic Coconut Oil*, Potassium Hydroxide**, Organic Olive Oil*, Natural Rose Fragrance, Organic Hemp Oil, Organic Jojoba Oil, Citric Acid, Tocopherol
* Certified fair trade
Highlights

Shipping & Returns
Rated

5

out of

5
by
Ko
from
Subtle, authentic, and non-artificial rose scent.
I've been using Dr. Bronner's products for years and have never turned away. This specific rose-scented castile soap has the same high-quality efficiency as all other DB products I've used, but with a subtle yet authentic rose scent that lets you know it's rose without shoving it up your nostrils (unlike most artificial rose-scented products). And for that, I appreciate this even more. I've used it (diluted) in laundry but mainly use it in a 1:5 water ratio as foaming hand soap to cut back on its strength (not a complaint, just a necessary adjustment for daily use). I love how the product is potent in strength but subtle in smell; a great balance for my personal product preferences.
Date published: 2023-10-13
Rated

5

out of

5
by
Howie
from
I'm a soap maker but I still use liquid bronners
I'm a soap business owner and I really didn't want to purchase many different ingredients to make liquid soap, so I ordered for myself different scented varieties and I'm using them now. I wished they made a rosemary one. I use them all in the shower for body & shampoo. I make coconut oil soap for my face, dishes and laundry, but I also use Bronners. It is a bit pricey to use in larger amounts, but I truly love using it on my hair and body. I do use the Unscented to make foaming hand soaps through out my home and I can use whatever fragrance & color I have in stock.
Date published: 2022-08-12
Rated

1

out of

5
by
Skhan
from
Fragrance
The soap may be ok, but the fragrance is too pungent and not pleasant . Everytime i smell it i want to throw up, You have not tested peoples opinions on the smell test, i have also Tried the rose and Peppermint fragrance, not pleasant . They all are very strong scented like French perfume, and that is not pleasant at all, you need to use more milder and better fragrances, the kind that when one sniffs it you want to more of it. Your product failed the smell test in my opinion, and i am an expert of fragrances. Enough said.
Date published: 2021-02-20
Rated

4

out of

5
by
judysunshine
from
I\'ve tried the lavender, rose, and citrus liquid soaps. I love all of these castile soaps, especially the lavender and citrus. The rose doesn\'t actually smell very rose-y. It\'s a weird smell actually, so if you\'re really hoping for a sweet rose smell, this probably won\'t do it for you.
Date published: 2011-04-29
Rated

2

out of

5
by
DC
from
This doesn't smell like Rose to us.
We don't like this fragrance at all. It doesn't resemble Rose in any way for us. We have tried most of the other fragrances already, and really like all of the others. This one, Rose, is just not a good scent. It smells like bad bubble gum. In all fairness, we did get a sample bottle first. Upon smelling it, I could tell it wasn't the rose I'm used to, but I was hopeful as I love all the others. But no, the 32 oz bottle smells just like the sample bottle, and NOT like Rose at all.
Date published: 2023-02-23
Rated

5

out of

5
by
Elizabeth G
from
My favorite soap
I love all of the Dr. Bronner's soaps!! In my eyes this brand can do no wrong lol My favorite scents are definitely peppermint, eucalyptus, and cherry blossom but regardless what scent is used, these soaps gets the job done leaving your skin feeling squeeky clean but not overly dry. I buy in bulk and dilute my soaps as instructed and they last a long time. These are the only body washes I currently have in my home and I hope to keep it this way!!
Date published: 2021-04-26
Rated

1

out of

5
by
Sully
from
Sadly Disappointed
Unfortunately, I did not like the product. :( I have used the peppermint scented one before and absolutely loved it. I am obsessed with rose scented items, and I was expecting this to be amazing. Unfortunately, it doesn't smell like roses. In fact, it doesn't smell like anything at all!! IDK if I got a bottle from a bad batch or not; I am extremely disappointed when it comes to the smell. Otherwise, the product is ok.
Date published: 2019-12-31
Rated

5

out of

5
by
Teresa
from
Like Being in a Rose Garden!
I've used all Dr. Bronner's scented soaps and love them all, but currently Rose Castile soap is my favorite. With the stresses of Covid and darker days of the winter season, I'm using it in the shower, and have also put it in a foaming soap dispenser where I wash my hands the most, the kitchen. It's heavenly floral scent, reminding me of a summer rose garden, lifts my mood and calms my soul.
Date published: 2020-12-08