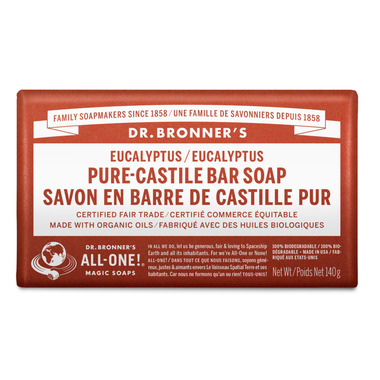 140 g
Dr. Bronner's Pure Castile Bar Soap Eucalyptus
is rated out of
5
by
58
.
---
Description
Dr. Bronner's Pure Castile Bar Soap with Eucalyptus opens your pores and clears your sinuses while enveloping the body in its warm invigorating vapors. All oils and essential oils are certified organic to the National Organic Standards Program.

Dr. Bronner's Pure Castile Bar Soaps are biodegradable-vegan, gentle and versatile; they work great for washing body, face or hair! Made with certified fair-trade ingredients and organic hemp oil for a soft, smooth lather that won't dry your skin. 100% biodegradable in a 100% post-consumer recycled wrapper.

Ingredients: Organic Coconut Oil*, Organic Palm Oil*, Sodium Hydroxide**, Water, Organic Eucalyptus Oil, Organic Olive Oil*, Organic Hemp Oil, Organic Jojoba Oil, Salt, Citric Acid, Tocopherol
* Certified Fair-Trade Ingredients
Highlights

Shipping & Returns
Rated

4

out of

5
by
Joanne
from
Soap smells great like eucalyptus and lathers very gently on hands. You can tell it's an all natural soap. My only issue is that it's a bit on the pricy side and that's the only reason I may not purchase it again.
Date published: 2016-11-30
Rated

3

out of

5
by
Salome
from
Nice soap, but doesn't last very long. Funny smell, kind of like a cross between a hospital and a cleanser. BUT DON"T GET IT IN YOUR EYES!!
Date published: 2014-02-25
Rated

5

out of

5
by
Nicholas
from
Life saver!
So a few years back I had an accident with a broken washing machine that had way too much fabric softener in the wash when it broke and despite re washing the clothes, I ended up with a lifetime of extreme skin sensitivity so much so, that any soap with any kind of perfume or anything would make my entire body break out in a horrible rash that itched like thousands of mosquito bites all over!! After a long and miserable time testing soaps I finally tried this one. I am amazed and so greatful for this soap! Its literally the only thing I can use so far that I know of and am completely rash and hive free and its been over 3 years now! Thank you so much for this amazing product, I only wish more of the world was similar to use naturally made products instead of soo many chemical ones. Had that been the case to begin with...probably would have never even got this lifelong condition.. THANK YOU FOR MAKING AWESOME! AMAZING! INCREDIBLE SOAP!!!
Date published: 2023-07-29
Rated

5

out of

5
by
Jonathan
from
Just plain good value soap
Better than the soap my mom used to make me eat.... Just kidding, I recommend this soap because it does everything well. It lathers up well, smells decent enough and rinses off well. You can use it as shampoo in a pinch, but I tend not to. We prefer the eucalyptus scent however, the others are not so bad also.
Date published: 2023-04-18
Rated

5

out of

5
by
Barry
from
Maybe it works too well?
Dr. Bronner's All-One Hemp Eucalyptus Pure-Castille Bar Soap is fantastic. It lathers fabulously, smells wonderful, and gets me squeaky-eucalyptically clean in no time, which is kind of unfortunate since it might be nice to spend more time in the shower, but I guess that's the trade-off.
Date published: 2021-01-14
Rated

5

out of

5
by
Kate
from
honey, I washed the kids!
makes the bathtub smell like a Northern California forest grove and is awesome on my preschooler's fine, curly hair. Gives the curls boing and definition, moisture, and (best of all) doesn't make him cry. Has also solved his eczema issues.
Date published: 2021-04-06
Rated

5

out of

5
by
Catm
from
Favourite soap
I love using this soap as my skin does not dry out from it. It lathers very well and goes a long way so saving money. Mostly though it's not harmful to your skin or body with all natural ingredients! It's a bit pricey but worth it!
Date published: 2023-07-25
Rated

5

out of

5
by
Alexander LG
from
Great Soap!
I bought this product a while ago and I'm so happy that I did! Packaging was not damaged at all! I tried it out and the soap cleared my skin in a few days. The smell is so amazing! Will definitely buy again!
Date published: 2020-08-16