Dr. Ho's
Dr. Ho's Small Replacement Massage Pads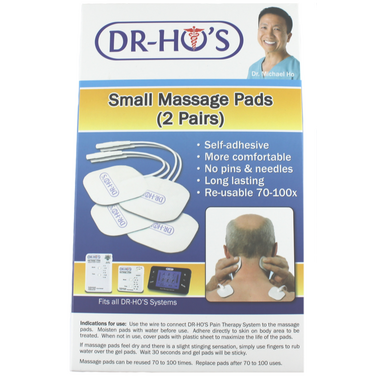 Dr. Ho's
Dr. Ho's Small Replacement Massage Pads
Description
DR-HO'S® Replacement Two-Pair comes complete with two pairs of large replacement gel pads. Use the Large Flex Tone Pads for a deeper penetrating and more soothing massage. The extra deep relaxation effects will feel great on large muscle areas and relieve muscle tension, numbness, and pain.

Features:
Perfect for large muscle groups.
Great for shoulder pain.
Effective for wrist and arm pain.
High-quality & reusable.
Excellent for leg pain.
Self-adhesive
Directions: Use them on your neck and shoulders, wrists and hands, back, legs, and ankles. Can be used up to 70-100 times. Recommend to spray water on gel pads before each usage. Do not pull on wire.

Caution: Do not use if pregnant or have a pacemaker.
Shipping & Returns
Unfortunately, due to the nature of this item, we cannot accept any returns.
We are only able to ship this item to Canadian customers.
Click here for more information