Drixoral Cold & Sinus 12 Hour Performance Tablets
Multi-Symptom Relief
20 Tablets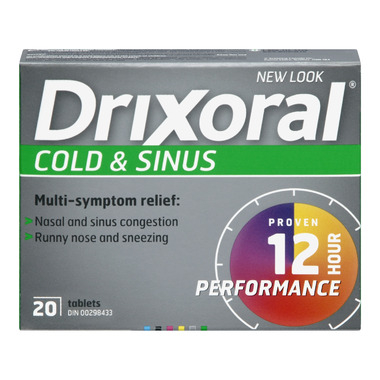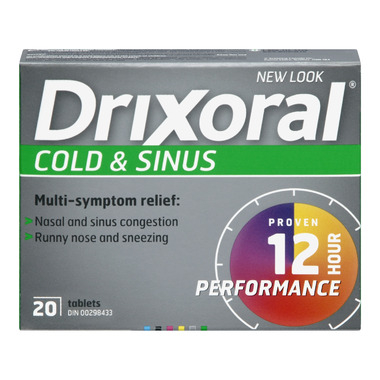 Drixoral Cold & Sinus 12 Hour Performance Tablets
Multi-Symptom Relief
20 Tablets
Drixoral Cold & Sinus helps relieve nasal and sinus congestion, runny nose, sneezing and watery eyes due to a cold, hay fever or other types of allergies. Drixoral Cold & Sinus tablets are formulated with time-released technology that provides up to 12 hours of relief.

DOSAGE: For adults and children over 12 years old: 1 tablet every 12 hours or as directed by a physician. Swallow whole. Do not chew, crush of dissolve the tablet. Do not exceed recommended dosage.

FORMULATION: The medicinal ingredients are pseudoephedrine 120 mg and dexbrompheniramine 6 mg.

CAUTION: If drowsiness occurs, do not drive or operate machinery. Do not take: with alcohol or with hypnotic narcotic analgesics, psychotherapeutic or anti-hypertensive agents; if you are currently taking or have recently taken Monoamine Oxidase (MAO) Inhibitor drugs. Consult a physician if: you have glaucoma, chronic lung disease, difficulty in urination due to enlargement of the prostate gland, diabetes, high blood pressure, heart or thyroid disease; you are elderly, your symptoms persist for more than three days or if you are pregnant or nursing.