Dropi Icelandic Cod Liver Oil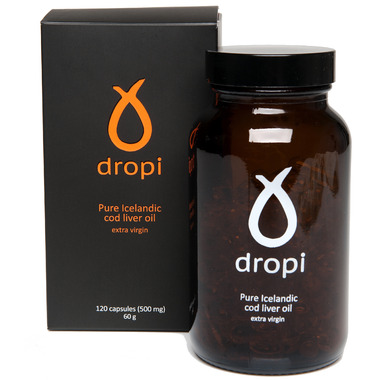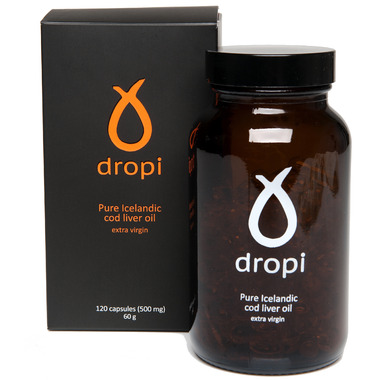 Dropi Icelandic Cod Liver Oil
- We're sorry, this product is no longer available!
- Shop for other products in: Cod Liver Oil

The fishermen bring in the fresh wild cod daily from the clean seas of the North-Atlantic Ocean just outside the Westfjords in northwest Iceland where it's processed immediately at our facility which is located by the harbor at Bolungarvik and few meters from the local fish market.
Benefits:
Omega-3s and vitamin D are known for lowering inflammation, preventing blood clotting, preserving brain health and preventing depression. They're even capable of causing noticeably reduced levels of pain and swelling due to inflammatory conditions like arthritis.
Dozens of studies have linked cod liver oil with the following benefits:
lowering high cholesterol and high triglycerides
preventing and treating diabetes
lowering high blood pressure
preventing heart disease
reducing risk for osteoarthritis
treating depression
lowering risk for autoimmune diseases
fighting eye disorders like glaucoma and protecting eye sight
treating ear infections, allergies and asthma
preventing and treating kidney disease
helping to heal skin wounds
maintaining bone health and preventing fractures or osteoporosis
Direction:
Take 2 Softgels (two 500mg soft gels), once daily
Ingredients:
Cod liver Oil Non-Medicinal Ingredients: Fish Gelatin, Vitamin E derived from sunflower oil, rosemary Leaf Extract, water.
Gluten Free, Non-GMO, Dairy Free, Peanut Free, Tree Nut Free