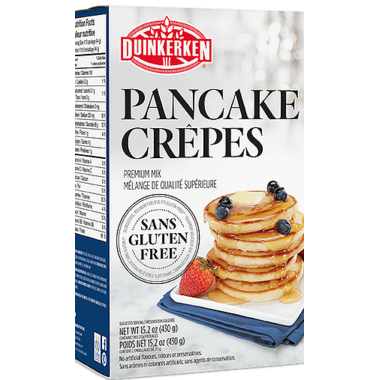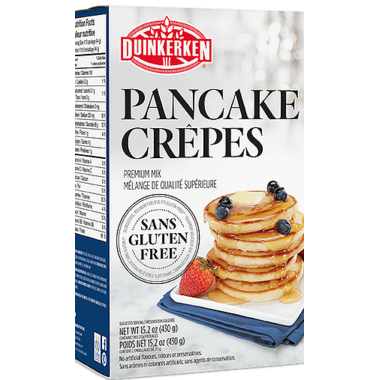 Duinkerken Pancake Mix is a wholesome way to start the day. Simply add eggs, oil and milk for delicious pancakes that everyone is sure to enjoy. The diverse mix is also perfect for waffles and can be easily customized by adding your favorite ingredients, including fresh fruit or chocolate chips. The mix is produced in a dedicated gluten, wheat, nut, and soy free facility. This all natural mix contains no preservatives, artificial colors or flavors, and is enriched with essential vitamins and minerals to sustain a healthy lifestyle.
Ingredients:
Tapioca Flour, Corn Starch, Rice Flour, Potato Starch, Cane Sugar, Sodium Bicarbonate, Sea Salt, Xanthan Gum. Vitamin enriched with: Iron, Niacin, Thiamine, Folic Acid, Riboflavin.
No artificial flavor, colours or preservatives.
Gluten Free, 100% natural, no GMO, Wheat Free, Nut Free, Soy Free