Dulcolax Overnight Relief Stimulant Laxative
Bisacodyl Tablets 5 mg
10 Tablets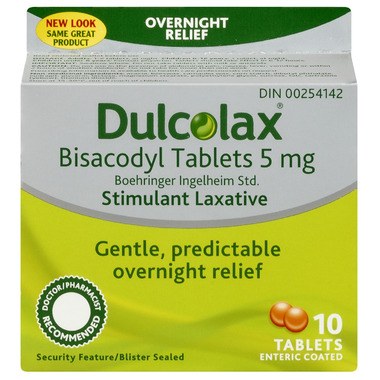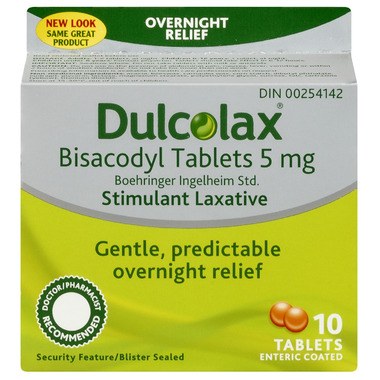 Dulcolax Overnight Relief Stimulant Laxative
Bisacodyl Tablets 5 mg
10 Tablets
Constipation can make you feel bloated, irritable and not like yourself. If you experience occasional constipation, Dulcolax Laxative Tablets could be just what you need. Dulcolax Laxative Tablets give you gentle, predictable, overnight relief, so you can feel like yourself in the morning.

Each small tablet contains a precisely-measured amount of the active ingredient, Bisacodyl. This ensures that Dulcolax Tablets are particularly predictable and reliable, after taking an individual dose.

Dulcolax Tablets belongs to a group of medicines known as stimulant laxatives. Dulcolax Tablets stimulates the bowel muscles while also accumulating water in the intestines. The effect is to soften the stool and to make it pass through more quickly.

Dulcolax Tablets have the special coating ensuring that the active ingredient is released right where it's needed. The coating resists the acidic digestive juices of the stomach and small intestine.


Directions:
As with all laxatives, Dulcolax Tablets should not be taken on a continuous daily basis or for extended periods without investigating the cause of constipation. It's very important to avoid drinking milk at the same time as taking Dulcolax. Dulcolax Tablets should never be crushed or chewed before swallowing.
For relief from occasional constipation, an adult dose is one to two coated tablets (5-10 mg) orally.
For relief from occasional constipation, children over 12 years of age can take one to two coated tablets (5-10 mg) per day, orally. Children between 6 and 12 years of age can take one coated tablet (5 mg) per day, orally. Children under 6 years of age should use Dulcolax as directed by your doctor.
Rayna:
more than a year ago
I've tried every type of laxative. These are expensive for the quantity you get, they sometimes do not kick in "reliably" as stated on the box (it can take as long as 16 hours for me!), and I find they don't don't do as good a job at cleansing as Little Carter's, Milk of Magnesia, or Ex-Lax. Overall, I probably won't buy again because of the price tag.
Page
1