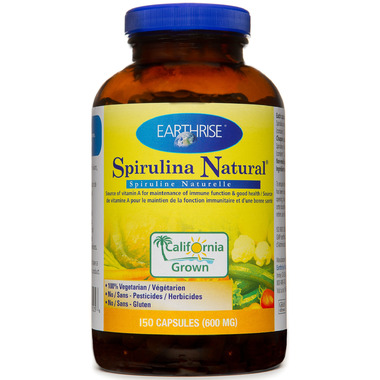 Description
Spirulina Natural is a Green SUPER Food for Longevity* and provides Immune Defense & Natural Antioxidant Protection*. Earthrise Spirulina promotes immune health & provides antioxidant benefits. Eat your Earthrise Nutritionals Spirulina greens for good health!
Supplement your intake of fruits and vegetables with 1 serving of Earthrise Spirulina a day - the natural antioxidant content (beta-carotene).

Key features at a glance
:
Rich in antioxidants
More than 60% easy-to-digest all-vegetable protein
Rich source of phytonutrients
Rare rood source of the essential fatty acid 'GLA'
Easy-to-absorb iron
Ecologically grown in Southern California - pesticide and herbicide free

Benefits of Spirulina Natural
:
A 6g serving per day is equivalent of six to eight servings of common vegetables a day in terms of antioxidant content (beta-carotene)
Eating Spirulina greens promotes good health*
Enhance Longevity*
Strengthens the immune system*
Incease antioxidant protection*
Suggested Use
: Take 5 capsules (3 grams) per day.
* These statements have not been evaluated by the Food and Drug Administration. This product is not intended to diagnose, treat, cure or prevent any disease.
Highlights

Shipping & Returns