Earth's Best Organic Infant Formula with Iron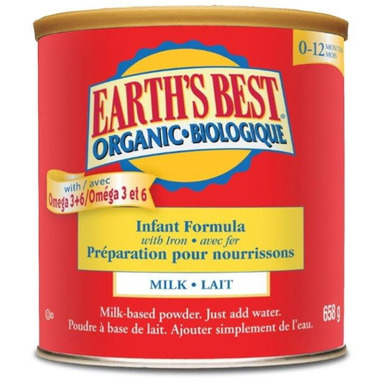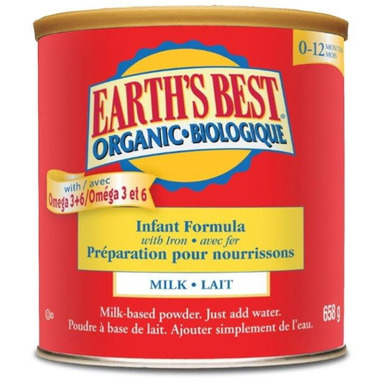 Earth's Best Organic Infant Formula with Iron
This item is a final sale item. Returns cannot be accepted.
Patterned after breast milk: high quality protein, carbohydrates, vitamins, minerals and essential fatty acids (DHA & ARA).

Features:
DHA (Omega 3) & ARA (Omega 6): naturally found in breast milk for baby's brain and eye development
17 mg DHA/ 100 calories
Contains 2X the DHA found in the leading organic formula
Has a whey/casein ratio that is almost identical to mother's milk
Uses organic lactose and organic glucose solids as a carbohydrate source
Nutritionally complete
Iron fortified
Easy to digest
Meets all FDA requirements for infant nutrition
Kosher certified
USDA organic
No growth hormones, antibiotics, steroids or potentially harmful pesticides or herbicides
Ingredients: Organic Skim Milk, Organic Corn Syrup Solids, Organic Maltodextrin, Organic Plam Oil, or Palm Olein, Organic Soybean Oil, Organic Coconut Oil, Organic High Oleic(Safflower or Sunflower) Oil, Mortierella Alipina Oil (Arachidonic Acid), Organic Soy Lecithin, Crypthecodinium Cohnii Oil (Docosahexaenoic Acid), Taurine, Cytidine-5'-Monophosphare, Mixed Tocopherol concentrate, Disodium Uridine-5'-Monophosphate, Ascorbyl Palmitate, Adenosine-5'-Monophosphate, Disodium Inosine-5'-Monophosphate, Disodium Guanosine-5'-Monophosphate.
Minerals: Calcium Hydroxide, Cupric Sulphate, Ferrous Sulphate (Iron), Magnesium Chloride, Manganese Sulphate, Potassium Bicoarbonate, Potassium Iodide, Sodium Citrate, Sodium Selenite, Zinc Sulphate.
Vitamins: Ascoribic Acid (Vitamin C), Beta-carotene, Biotin, Clacium Pantothenate, Choline Chloride, Cyancobalamin (Vitamin B12), Folic Acid, Inositol, Niacinamide (Vitamin B3), Pyridoxine Hydrochloride (Vitmain B6), Riboflavin (Vitamin B2), Thiamine Hydrochrloride (Vitamin B1), Vitamin A Palmitate, Cholecalciferol (Vitamin D3), dI-Alpha Tocopheryl Acetate (Vitamin E), Phytonadione (Vitamin K).
Warning: Contains milk and soy. Good Manufacturing Practices are used to prevent introduction of undeclared allergens.

​