Earth's Care Arnica Compound Ointment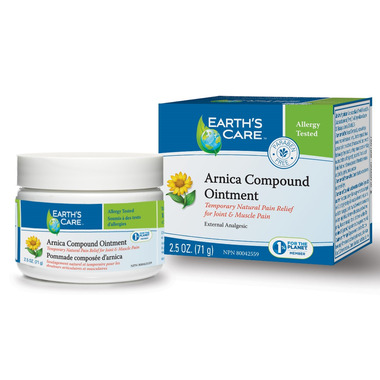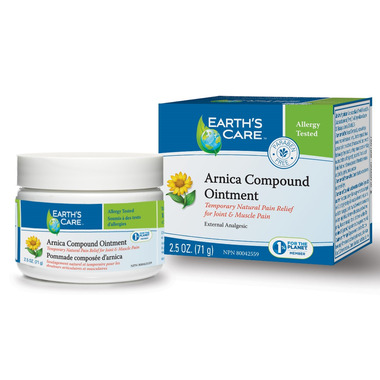 Earth's Care Arnica Compound Ointment
Earth's Care Arnica Compound Ointment provides you with temporary natural pain relief for joint and muscle pain. Almond Oil temporarily protects and helps relieve minor skin irritation and itching. Camphor temporarily relieves aches and pains of muscles and joints associated with one or more of the following: simple backache, lumbago, strains and sprains (involving muscles, tendons, and/or ligaments), and arthritis. Arnica is used in Herbal Medicine to help relieve pain and/or inflammation in muscles and joints (e.g. sprains, bruises, joint pain).
Features:
External Analgesic
Allergy Tested
1% for the Planet Member
Paraben-Free
Directions:
Adults, adolescents and children 2 years old and over: For external use only. Do not apply to wounds or damaged skin. Do not tightly bandage. Do not apply with external heat, such as an electric heating pad, as this may result in excessive skin irritation or skin burn. Apply thinly and evenly to affected area up to 3 to 4 times per day. Rub and/or massage into skin until ointment vanishes.
For children (2-12 years old): Application should be supervised by an adult.
Medicinal Ingredients:
Prunus dulcis (Sweet Almond Oil) (seed) 50%, Arnica montana (Arnica) (Flowers) 3%, d-Camphor (Natural Camphor) 3%, Eucalyptus Essential Oil (leaf) 0.8%
Non-Medicinal Ingredients:
Butyrospermum parkii (Shea) Butter, Balsam Peru Essential Oil, Beeswax, Melaleuca leucadendra Leaf Essential Oil, Gaultheria procumbens (Wintergreen) Leaf Oil, Matricaria chamomilla (German chamomile) Flower Extract, Mixed Tocopherol Concentrate, Rosmarinus officinalis (Rosemary) Extract