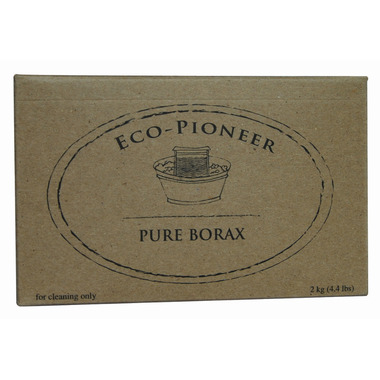 2 kg
Eco-Pioneer Pure Borax
is rated out of
5
by
39
.
---
Description
Eco-Pioneer washing products are 100% pure and non-hazardous to the environment.

Eco-Pioneer products are designed to be simple, effective and environmentally sustainable. Besides being all natural and readily biodegradable, their washing powders leave a small ecological footprint. They are sourced from local suppliers and are minimally packaged in 100% recycled paper fibre boxes and printed with non-toxic, vegetable inks.

Eco-Pioneer is hydrated sodium borate, a mineral ore of interlocked chains of boron, hydrogen, oxygen, water and sodium. Eco-Pioneer borax is created from refining recovered ore from dried playa lake beds. A playa lake is one that fills with rain water then dries out leaving various salts. The deposits are refined by boiling the ore in water and adding carbonated soda which causes the borax to dissolve and impurities to settle out. The water borax mixture is poured off and cooled, allowing borax crystals to form.
Highlights

Shipping & Returns
Rated

5

out of

5
by
Susie
from
This product is wonderful. Love the recyclable non-plastic packaging and the fact that this pure product can be used for so many "green" things around our house. We use it and it works well as part of the laundry detergent that we wash our cloth diapers in. No need to buy the expensive so-called "green detergents, just make your own. We pair this borax with washing soda made by the same company for our dishwasher detergent.
Date published: 2012-10-15
Rated

5

out of

5
by
Taryne
from
i am really enjoying this product as someone who is sensitive to scents this works great for me and my family for a multitude of cleaning purposes. i also really love the recyclable cardboard packaging.
Date published: 2011-03-08
Rated

5

out of

5
by
Luna
from
This is a product that I use all the time as a booster in my dishwasher and in my laundry. It is best when it is dissolved in hot water and then added to the detergents!
Date published: 2013-12-02
Rated

5

out of

5
by
Sam
from
I used this with the other Eco-Pioneer products to make laundry soap and love it! Clothes are clean, diapers are clean, and no nasty chemicals! Plus it's super easy to make!
Date published: 2012-08-17
Rated

5

out of

5
by
Vanessa
from
This is a great alternative to bleach for white and very light coloured clothing and linens. Caution: don't use this on darker items; it will fade the colour. I found this out the hard way by adding it to a dark wash; my jeans faded. Other than that, great chemical-free product!
Date published: 2017-04-25
Rated

5

out of

5
by
Alissa
from
Great product, great price. I throw this into every load of laundry to boost it's efficiency. Has been working great. I use this with all-natural Caldrea laundry detergent - this combo works great. Everything comes out clean and smelling great.
Date published: 2013-04-24
Rated

5

out of

5
by
Andrea
from
Great product, I use it for homemade laundry detergent. I appreciate this brand because it comes in a box (recyclable, no waste). Recommended!
Date published: 2017-03-16
Rated

5

out of

5
by
Zoé
from
I bought this to make my own laundry detergent. Borax works well, no sent, white cleaner but nice on color too! I will buy again.
Date published: 2013-07-04