Ecoideas
Ecoideas Authentic Tibetan Goji Berries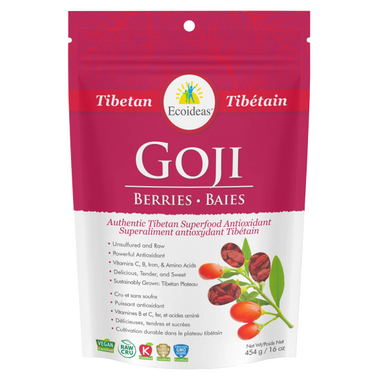 Ecoideas
Ecoideas Authentic Tibetan Goji Berries
Description
Ecoideas Authentic Tibetan Goji Berries are grown organically in the Tibetan Plateau, yielding a superior tender texture and sweet flavour. They are never treated with sulfur and are kept raw, which preserves their nutritional profile.
Goji Berries are excellent source of vitamin A and C, are high in iron and fibre, and are a source of calcium.
Features:
Organic and Vegan Certified
Raw
Kosher
Gluten Guard Certified
GMO Guard Certified
USE:

Goji Berries are perfect superfood snack. Add them intro trail mixes and granola bars, blend them into smoothies, or mix them into cereals and yogurt. If desired, soak Goji Berries in water overnight to soften.

Ingredients: Raw Organic Tibetan Goji Berries (Lycium Barbarum).

Highlights

Shipping & Returns