Ecoideas
Ecoideas Coco Natura Organic Coconut Sugar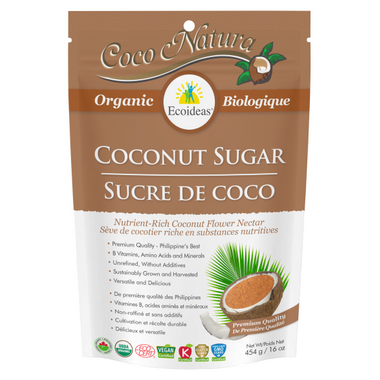 Ecoideas
Ecoideas Coco Natura Organic Coconut Sugar
Description
Coco Natura is the original coconut sugar, made from the highest quality coconut flower nectar. It is 100% pure and free from additives and artificial flavours. Coco Natura resembles brown sugar, but with a delicious natural hint of caramel flavour. It is made from crystallized nectar that is extracted from the flower of the coconut tree ( not the coconut or the tree trunk). Extracting nectar from the flower is a traditional and sustainable process that is not harmful to the tree. The pure and unrefined flower nectar is then crystallized to create delicious natural sugar.
Features:
Certified Organic and Non-GMO
Certified Vegan, Gluten Free and Kosher
Unrefined, without additives
Sustainably grown and harvested
Uses: Use Coco Natura as you would commonly use other granulated sugars, on a 1:1 ratio. Delicious in coffee, tea, and baked goods.
Ingredients: Organic Coconut Flower Nectar
Highlights

Shipping & Returns