Ecoideas Coco Natura Organic Coconut Sugar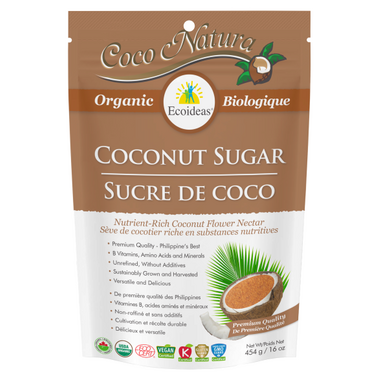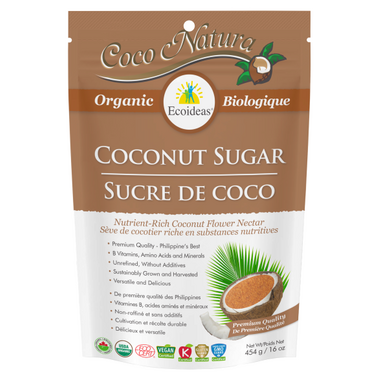 Ecoideas Coco Natura Organic Coconut Sugar
A nutrient-rich natural sweetener derived from the crystallized fresh sap of organically grown coconut flowers (not tree sap!). Coco Natura™ – the original coconut sweetener – is 100% natural and free from additives and artificial flavours. It is a delicious and nutritious sugar rich with vitamins (particularly B vitamins), amino acids, and minerals. Coco Natura is also known and valued for its low glycemic index (GI) of 35. It is used the same as any white sugars; on a 1:1 basis.
Features:
High in B Vitamins, Amino Acids, and Minerals

Certified Organic and Non-GMO
Ceritied Vegan, Gluten Free and Kosher

Unrefined, Additive-free
Low GI
100% Natural Sap
Premium quality from the Philippines

Sap from budding flowers (not trees)
Sustainably grown and harvested

Uses:
To sweeten your coffee, tea, and other beverages
To enhance the flavor of your cakes and pastries
A balancing agent for curries and robust sauces
The ideal sugar substitute for diabetics
For weight maintenance and obesity prevention


Frederic:
more than a year ago
I bought this because I'm trying to vary the types of sugars I use for my coffees and considdring coconut oil in espresso is so good, this sounded like a good idea... The coconut is hardly present taste wise, but the caramel taste is very present, just like a really dark brown sugar. It gives my coffee a very rich and bold flavor! Love this stuff!
Page
1