Ecoideas Organic Raw Maca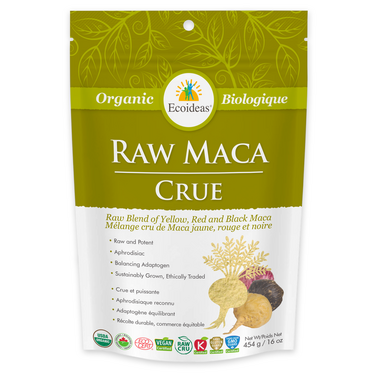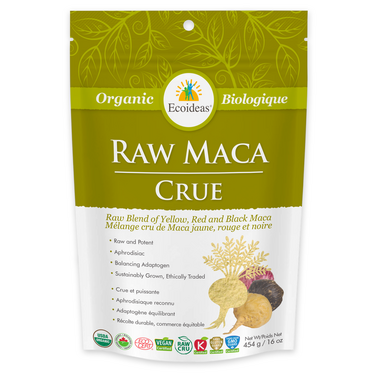 Ecoideas Organic Raw Maca
Make no mistake – all of Ethnoscience macas (not including Gelatinized and Premium) are raw. This "Raw Maca" option is simply a blend of red, yellow, and black maca. This option is for those who wish for a less directed, wider spectrum of benefits.
Approximate % breakdown is as follows:
Yellow Maca root: 70%, Red Maca root: 20%, Black Maca root: 10%.
Features:
Calcium
Potassium
Iron
EFA and Protein Rich
Certified Organic
RAW
Maca, a root vegetable, is an ancient superfood of the Incas rich in calcium, potassium, iron, essential fatty acids, and protein. Raw Maca is a blend of all 3 raw root types: yellow, red and black. Each Maca colour has different properties.
Maca is a nutritionally dense perennial tuber that absorbs and stores nutrients. Maca is native to the Peruvian Andes and belongs to the cruciferous vegetable family. It is typically grown as a root vegetable in harsh weather conditions and high altitudes.
Maca is sometimes referred to as "Peruvian ginseng" and was highly revered by the Inca for its wonderfully rich nutritional properties. Maca is an adaptogen, known for its ability to increase energy, build physical strength, improve mood, reduce anxiety and heighten libido. It is rich in essential minerals, EFAs, amino acids and polysaccharides. Maca root contains over 55 naturally occurring, beneficial phyto-chemicals that work in tandem with the body's natural rhythms. Maca root helps rebuild weak immune systems, re-mineralize poorly nourished bodies and increase energy and endurance.