Ecoideas Organic Yellow Maca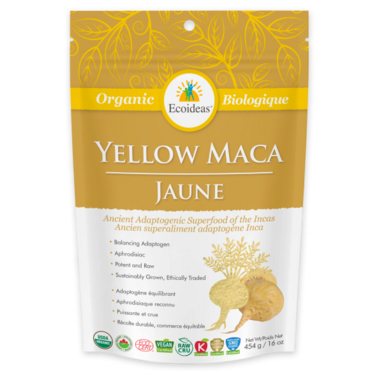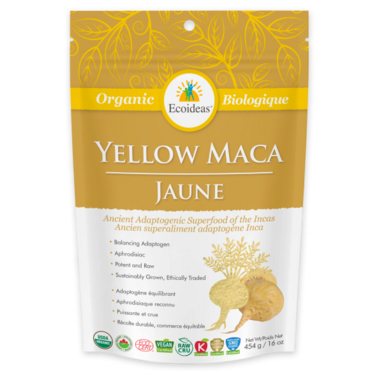 Ecoideas Organic Yellow Maca
Maca, a root vegetable, is an ancient superfood of the Incas rich in calcium, potassium, iron, essential fatty acids, and protein. Yellow Maca is known for its beneficial effects on female fertility and menopausal symptoms. Each Maca colour has different properties.
Maca is a nutritionally dense perennial tuber that absorbs and stores nutrients. Maca is native to the Peruvian Andes and belongs to the cruciferous vegetable family. It is typically grown as a root vegetable in harsh weather conditions and high altitudes.
Maca is sometimes referred to as "Peruvian ginseng" and was highly revered by the Inca for its wonderfully rich nutritional properties. Maca is an adaptogen, known for its ability to increase energy, build physical strength, improve mood, reduce anxiety and heighten libido. It is rich in essential minerals, EFAs, amino acids and polysaccharides. Maca root contains over 55 naturally occurring, beneficial phyto-chemicals that work in tandem with the body's natural rhythms. Maca root helps rebuild weak immune systems, re-mineralize poorly nourished bodies and increase energy and endurance.
Features:
Calcium
Potassium
Iron
EFA and Protein Rich
Certified Organic
RAW

Renata:
more than a year ago
I use this product for perimenopausal/menopausal symptoms and it definitely seems to help - especially with hot flashes. It is important to take a break from maca though as the body gets used to it quite easily. My preference is to take it only on weekdays & take the weekends off. And my preferred method is to put 2 tsp into a blender health drink in the afternoon. (Just don't combine it with hot liquids!)

My only "challenge" with maca, and this one in particular, is that the powder is very irritating if you inhale it - which is easy to do. When you open the bag, the powder quickly becomes airborne so I have to hold my breath between the time I open and close the bag.

Finally, the resealable bag does not reseal!. Annoying. Because the powder does drift around so much, I didn't want to try pouring it into another container so I'm using an alligator clip to keep the bag closed.
Page
1